Stuck in a grilling rut? Shake things up with essential Simply Organic® marinades, dry rubs and seasonings! These always-organic grilling essentials are pure, make your grilling experience simple and bring joy to everyday meals- Pure.Simple.Joy™.
Read on to learn how to infuse your favorite grilled meats and vegetables with globally-inspired flavors that get you excited to make dinner — night after night. Plus, get chef-approved tips and tricks to help you perfect the art of grilling.
To fast-track to our expertly seasoned grilling recipes, scroll to the bottom of this article for a curated selection, or visit the full collection on our Grilling Recipes page.
Grilling 101: Marinades vs. Dry Rubs

What is a marinade?
A marinade is a blend of spices, oil and an acidic component like vinegar or citrus juice. Not just for adding flavor, marinades help tenderize your meat and lock in all the savory juices. That's thanks in part to the acidity, which helps break down the proteins in the meat.
What is a dry rub?
Just like the name implies, a dry rub is a mix of dried spices, herbs and salt that's massaged into meat to help the flavors penetrate its surface.
Because they're made with only dry ingredients, the flavor-carrying fats and juices from meats and vegetables can better render into the spices. Once they meet the direct heat and smoke from the grill, those fats release complex flavors and aromas.
In other words: fat + smoke + dried spice = awesome.
Which is better: a dry rub or a marinade?
That depends on what you're cooking. Both deliver serious flavor and can radically enhance the texture of the finished product. You can use them interchangeably for the most part, but there are some instances when one is better than the other.
If you're working with a tough cut of meat like a flank steak or brisket, a marinade can make it extra tender and juicy.
On the other hand, added moisture from marinades can prevent the awesome crust that forms when certain meats hit the grill. So, when it comes to things like chicken wings or tenderloin — a dry rub is usually the way to go.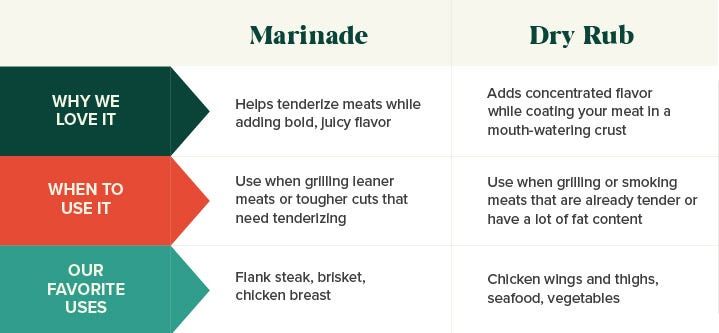 It's easy to infuse your favorite meats and vegetables with bold, organic flavor with these grilling shortcuts from Simply Organic — ready to roll whenever you are:
Fan-Favorite Organic Dry Rubs
Want to WOW the guests at your next BBQ? Simply Organic® Dry Rubs deliver dependable, show-stopping flavor that's ready to go right out of the packet — no mixing, measuring or guesswork required.
Simply Organic® Buffalo Dry Rub – The perfect balance of tangy and smoky with just enough heat to perk up your tastebuds. A must-have for grilling wings, chicken strips and more.
Simply Organic® Cajun Dry Rub – A comforting mix of smoky and savory flavors made even better with a touch of heat. Create instant happiness with this dry rub that elevates grilled seafood, shrimp boils, oven fries and more.
Marvelous Organic Marinades
Achieving perfectly seasoned, juicy steaks is deliciously easy with Simply Organic® Marinade Mixes. Just add the packet to a little oil and a splash of vinegar, and voilà — you're ready to go!
Simply Organic® Chimichurri Marinade Mix – An aromatic bouquet of zesty herbal flavors, deepened by pinches of organic garlic, onion and chili pepper. Excellent as a marinade for grilled steaks, pork tenderloin or fish.
Simply Organic® Teriyaki Marinade Mix – Deep umami notes brightened with a hint of citrus and a kick of ginger. Create beautifully textured, perfectly seasoned grilled meats and vegetables that beat take-out every time.
Simply Organic® Peppercorn Garlic Marinade Mix – Organic peppercorns, garlic and chili heat meet the cool, herbal notes of parsley, celery and onion for a blend that crackles with flavor. Equally awesome on meat, plant-based proteins and vegetables.
Simply Organic® Savory Steak Marinade Mix – A balanced fusion of organic black peppercorns, garlic and red chili pepper with herbal notes of coriander, dill and paprika. Not just for steaks — try it with portobello mushrooms or seitan.

The Top 10 Dried Spices for Grilling
If you don't have a ready-to-use dry rub or marinade on hand, don't sweat it — you can easily make one yourself by raiding your spice cabinet!
Dried spices can be added to dry rubs, wet rubs, marinades, and sauces, giving you room to experiment with your favorite flavors. Mix and match these basic, but essential, grilling spices to discover new ways to level up your BBQ game:
1. Black Pepper
The resinous flavor and piercing heat of black pepper make it THE essential spice to pair with the smoky and charred flavors that only come with grilling. Use a high-quality ground pepper for convenience, or pulverize whole black peppercorns for a crack of fresh flavor. Respect your steak — without black pepper it's just a piece of meat!
2. Onion
Sweet onion is the perfect spice pairing for grilled everything. It lends a deep flavor and satisfying sweetness when its sugars caramelize in the juices and heat of the grill. Use powdered onion or minced onion on all grilled proteins, meats and vegetables.
3. Cumin
Think of cumin seed as a heat-free version of black pepper. Earthy and super savory, cumin brings a gravy-like, almost meaty richness that mingles spectacularly with the smoky, charred flavors of grilling.
4. Garlic
Garlic enhances meats and proteins wonderfully. It also makes vegetables more intense and tasty. When grilling with garlic, reconstitute dried garlic powder, granules or flakes in your basting liquid and brush onto your food. Pro tip: repeat this step before, during and after grilling.
5. Smoked Paprika
A smoked sweet pepper with a warm, but not-too-hot spiciness. Use smoked paprika to season quick-grilling items that don't have a lot of time to pick up flavor from the flames. This includes shellfish, delicate fish, chicken strips and skirt steaks, as well as tender vegetables like asparagus, whole scallions and summer squash.
6. Oregano
Filled with savory, slightly peppery volatile oils, oregano cuts through the richness of grilled meats and proteins while infusing grilled vegetables with complex flavor and depth. Its flavor is unrivaled when paired with roasted and charred tomatoes, ripe bell peppers and eggplant.
7. Crushed Red Pepper
Crushed red chili pepper flakes add texture and fruity heat, and are a must for pre-grilling brines, marinades and finishing sauces. Try basting skewers of beef, chicken, shrimp and broccoli with a marinade of oil, garlic and chili pepper flakes.
8. Rosemary
The savory-herbal notes of rosemary penetrate thick-cut grilled meats, adding deep, herbaceous flavors that'll leave you drooling for more. Use whole rosemary leaves in grilling brines and marinades and apply to classic steaks, lamb kebabs or Mediterranean-inspired chicken.
9. Turmeric
Can you grill with turmeric? You betcha! Its earthy, spicy nuances make it an excellent choice to bust out at the grill — and a colorful one to boot. Pair ground turmeric with cumin, garlic and chili flakes in marinades. Or create a buttery sauce for crispy-skinned grilled chicken, shrimp or cauliflower steaks.
10. Thyme
A classic seasoning — and for good reason: thyme combines bold, savory herbal flavor with delicate, almost flowery nuances. Enchantingly aromatic, thyme works well as a grilling season for substantial cuts of beef and whole spatchcocked poultry. Thyme's delicate flavor also enhances flash-fired, quick-cooking shrimp, fish and lamb chops.
Try Our Favorite Grilling Spices
DIY Dry Rubs and Marinades for Grilling
Feel like mixing it up? Try these fool-proof dry rub and marinade recipes that make bold, organic ingredients the star of the show:
Bonus Tips and Uses!
Simply Organic® Dry Rubs and Marinade Mixes are made for grilling, but don't sell them short — they're much more versatile than that!
Here are some of our favorite ways to use them in unexpected places:
Buffalo Dry Rub
Need a snack for movie night? Add ½ packet of Simply Organic® Buffalo Dry Rub to already popped popcorn and mix to coat.
Make plant-based "wings" for Meatless Monday! Toss cauliflower florets with oil, then coat with Buffalo Dry Rub. Bake for 25 minutes at 450°.
Vegan Buffalo Dip (serves 10-12): Place the contents of two 7-ounce cartons of Violife vegan original cream cheese in a bowl; let sit out for 15 minutes. Add water, ¼ cup at a time (up to 1 cup) and hand mix until the desired consistency is reached. Mix in Buffalo Dry Rub until evenly combined. Serve at your next get-together!
Chimichurri Marinade Mix
Chimichurri Dressing: Pour Simply Organic® Chimichurri Marinade Mix into a bowl, add 6 tablespoons red wine vinegar, whisk, then slowly whisk in 1 cup olive oil. Serve over your favorite greens for a flavorful salad that's anything but boring!
Chimichurri Roasted Vegetables: Preheat oven to 375°. Pour Simply Organic® Chimichurri Marinade Mix into a bowl and add 1½ tablespoons red wine vinegar. While whisking, drizzle in ¼ cup olive oil. Toss vegetables in the prepared mix and arrange on a lined sheet tray. Bake for 20 minutes or until the vegetables are cooked. Enjoy as an easy weeknight dinner side!


Teriyaki Marinade Mix
Teriyaki Mushroom Kabobs: In a large bowl, combine Simply Organic® Teriyaki Marinade Mix, ¼ cup water and ¼ cup neutral oil. Toss in mushrooms, bell peppers and onions; let marinate in the fridge for an hour. Lace mushrooms, peppers and onions on skewers, then grill for 4 minutes on each side.
Teriyaki Rice: In a pot, combine 1 cup rice, 2¼ cups water and 1 packet Simply Organic® Teriyaki Marinade Mix. Cook according to rice package directions.


Cajun Dry Rub
Baked Cajun Sweet Potato Chips: Preheat oven to 275°. Thinly slice sweet potatoes, toss with 2 teaspoons neutral oil, then sprinkle on Simply Organic® Cajun Dry Rub. Bake on a lined cookie sheet for 20 minutes, or until crispy. Enjoy!
Use Cajun Dry Rub on cubed, pressed, extra-firm tofu.
And, Finally...Grilling Recipes You Can't Help But Love
Need ideas for a weeknight meal you can whip up in no time? Or something impressive for your next backyard BBQ? These recipes have you covered: