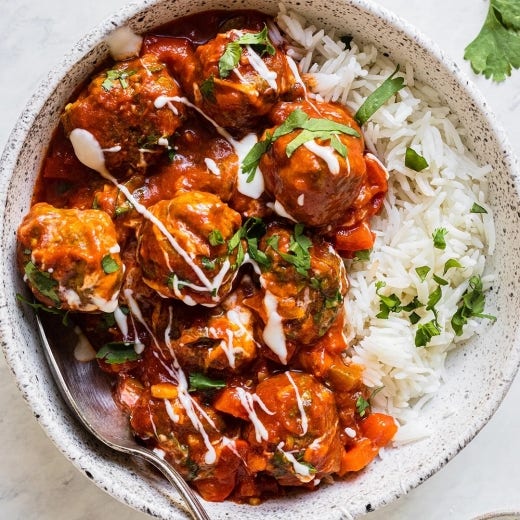 Turmeric and Ginger Meatballs with Tangy Red Pepper Sauce
This uniquely seasoned meatballs recipe strikes a delectable balance of earthy, tangy, herbaceous and smoky, with a distinct touch of heat. You prepare the meatballs without breadcrumbs (and with whatever type of meat or meat alternative you prefer) — but with tons of flavor! Then toss them in a kickin' veggie-laden red pepper sauce and finish with a cooling yogurt drizzle. Extra bonus: This recipe packs a curcumin kick thanks to our ground turmeric.
For the Meatballs
1 pound ground beef (or other meat or plant-based option of choice)
1/2 small onion, minced
1 egg, beaten
2 teaspoons Simply Organic® Turmeric
1 teaspoon Simply Organic® Ginger
1 teaspoon Simply Organic® Parsley
1/4 teaspoon Simply Organic® Cayenne
1 teaspoon kosher salt
Olive oil spray, as needed
For the Red Pepper Sauce:
2 tablespoons olive oil
1/2 small onion, minced
1 red pepper, diced
1 jalapeño pepper, minced
2 cloves garlic, minced
1 can (28 ounces) crushed tomatoes
1/2 cup chicken stock or vegetable broth
1 tablespoon brown sugar
1 tablespoon Simply Organic® Smoked Paprika
Kosher salt, to taste
Simply Organic® Black Peppercorns, freshly ground, to taste
1 lime, juiced and zested
For the Yogurt Sauce:
1 cup plain yogurt
1 clove garlic, minced
1 lime, juiced
Kosher salt, to taste
Simply Organic® Black Peppercorns, freshly ground, to taste
Directions
Preheat oven to 425 degrees. Line a sheet pan with tin foil, place a baking rack on top, and spray with olive oil spray.
To make the meatballs: In a large bowl, add ground beef, onion, egg, turmeric, ginger, parsley, cayenne and salt. Using a fork, mix until well combined. Roll mixture into tablespoon-sized meatballs and place on prepared baking sheet. Bake for 30 minutes, or until golden brown and cooked through.
To make the red pepper sauce: Meanwhile, in a large skillet, heat olive oil over medium heat. Add onion and red pepper and cook for about 7 minutes, until softened. Add jalapeño and garlic and cook for one minute more. Add crushed tomatoes, chicken stock, brown sugar and smoked paprika; bring to a boil. Reduce heat to a simmer, season with salt and pepper and cook for 30 minutes. Add lime zest and juice and season to taste.
Place cooked meatballs in sauce and let simmer for about 10 minutes.
When ready to serve, combine yogurt, garlic and lime juice, and season to taste with salt and pepper. Serve meatballs and sauce over rice, dolloped with yogurt sauce.
Recipe Tip
This recipe is flexible! If you don't have brown sugar on hand, use honey or granulated sugar. Other citrus fruits may be used in place of the lime. And jarred roasted peppers work well in place of fresh red pepper in the sauce.