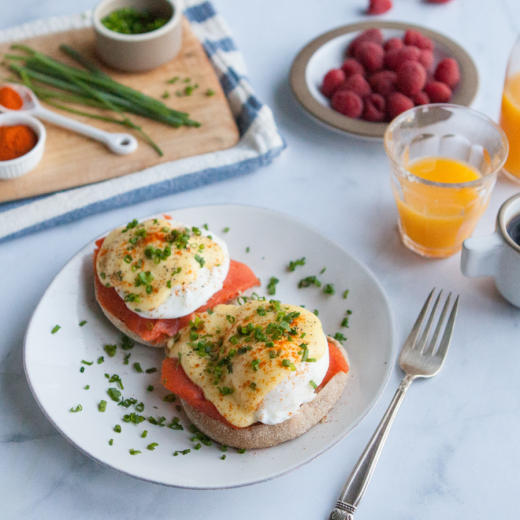 Smoked Salmon Eggs Benedict with Hollandaise Sauce
Smoked salmon, creamy Hollandaise sauce, fresh chives, and punchy cayenne join forces to make one big-flavored eggs Benedict recipe. Made deliciously easy with Simply Organic Hollandaise Sauce Mix.
Directions
In a medium-size pot over medium heat, whisk packet contents with milk.
Add 4 tablespoons butter and bring to a boil while whisking, then reduce to a simmer and whisk for 1 minute.
Remove from heat and add cayenne, black pepper and salt. Cover and set aside.
Fill a 10-inch skillet over high heat halfway with water. Bring water to a boil, then add vinegar. Reduce heat to low so water is gently simmering.
Gently break 1 egg into warm water and cook for about 4 minutes, until egg white is set. Repeat with remaining 7 eggs.
Use a slotted spoon to remove eggs, draining away excess water.
Toast English muffins and divide remaining 2 tablespoons butter among them. Place a few slices of salmon on each muffin half, then top with a poached egg, a generous spoonful of Hollandaise sauce, and chives.