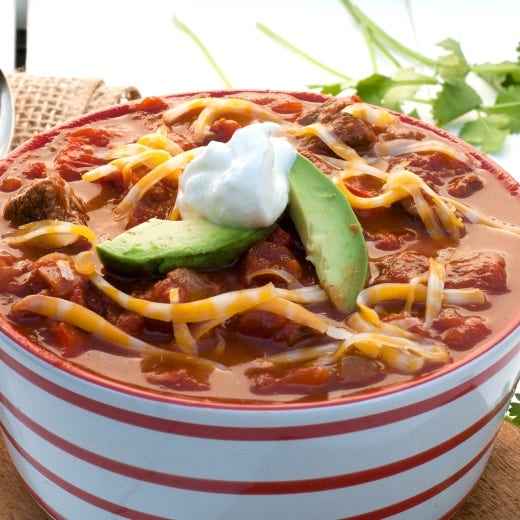 Slow Cooker Chili con Carne
Simplify your chili con carne recipe with Simply Organic Spicy Chili Seasoning Mix.
1 tablespoon olive oil
1 small onion, diced
1 red bell pepper, diced
2 cloves garlic, minced
2 pounds beef, cut into chunks
1/2 jalapeño pepper, finely chopped
3 tablespoons tomato paste
2 cups beef or vegetable broth
1 can (14 ounces) diced tomatoes
Directions
In a large saucepan over medium heat, heat olive oil. Add onion, bell pepper and garlic. Sauté for about 4 minutes, stirring frequently. Add beef and cook for about 3 minutes, until browned.
Transfer mixture to a slow cooker and add jalapeño, tomato paste, broth, tomatoes and seasoning mix. Stir until well combined. Cook on high for 4 to 5 hours or on low for 7 to 8 hours.
Serve with your favorite chili toppings.
RECIPE TIP
If you prefer milder chili, use our Mild Chili Seasoning Mix.