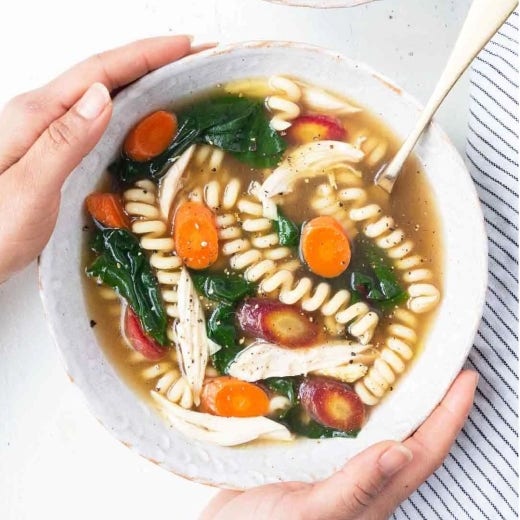 Ginger and Turmeric Chicken Noodle Soup
A classic chicken noodle soup recipe made with a rich, hearty homemade broth and well spiced with ginger, turmeric and black pepper. Vibrant and comforting, you just can't go wrong!
For the Broth:
1 teaspoon Simply Organic® Ginger
1 teaspoon Simply Organic® Turmeric
1 teaspoon sea salt or Himalayan pink salt
2 onions, skin on, quartered
3 carrots, unpeeled, chopped
3 stalks celery, roughly chopped
2 cloves garlic, skin on
2 large bone-in chicken breasts, skin on
1 1/2 pounds chicken wings
1 bunch parsley stems
1 tablespoon Simply Organic® Whole Black Peppercorns
2 Simply Organic® Bay Leaves
For the Soup:
3 carrots, sliced
3 stalks celery, sliced
1 bunch rainbow chard, leaves shredded and stems sliced
2 cups reserved cooked chicken
2 tablespoons fresh parsley, chopped, plus more for garnish
Sea salt or Himalayan pink salt, to taste
Simply Organic® Black Pepper, to taste
8 ounces Gemelli pasta, cooked (optional)
Directions
To Make the Broth:
Preheat oven to 450 degrees.
In a small bowl, combine ginger, turmeric and salt. Stir until well combined.
In a small roasting pan, place onions, carrots, celery, garlic, chicken breasts and chicken wings. Season chicken and vegetables with the spice mixture, then roast for about 1 hour, until vegetables and chicken are golden brown. Remove from oven and let cool completely.
Remove chicken from the bone and reserve meat and bones separately.
In a pressure cooker, add bones, chicken and vegetables. Add a little water to the roasting pan to remove fond from the bottom, then pour into pressure cooker. Add parsley, peppercorns and bay leaves.
Fill pressure cooker pot with cold water, cover with lid and let cook on high pressure for 1 hour. Let pressure naturally release for 20 minutes before manually releasing remaining pressure.
Remove lid, discard bones and strain broth through a fine mesh strainer into a large soup pot.
To Make the Soup:
Place soup pot filled with broth over medium-high heat. Add carrots, celery and chard stems. Simmer until vegetables are tender.
Meanwhile, shred reserved chicken.
When vegetables are tender, add chicken and chard leaves to pot. Cook for about 5 minutes more, until chard is tender. Season with salt and pepper. Add cooked pasta, if desired, then garnish with parsley, and serve.