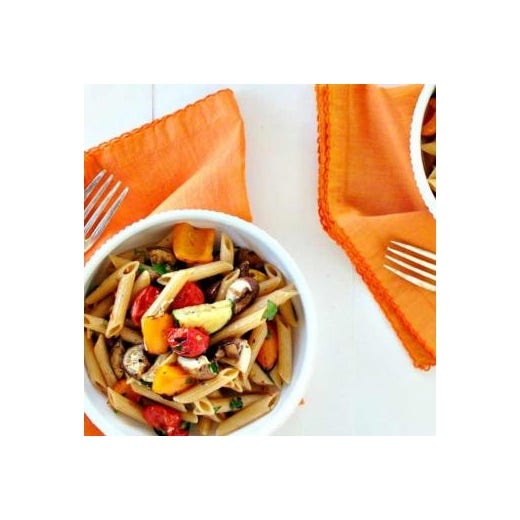 Grilled Vegetable Herb Pasta Salad
Fresh Parmesan and Italian herb dressing make this pasta salad stand out.
1 generous pinch + 1/2 teaspoon sea salt, divided, plus more to taste
1 (13.5 ounce) box of whole grain penne
1 teaspoon + 1/2 cup grapeseed or light olive oil, divided, + more for brushing vegetables
3 garlic cloves, minced fine
3/4 teaspoon Simply Organic® Oregano
1/2 teaspoon Simply Organic® Basil
1/2 teaspoon Simply Organic® Parsley
1/2 teaspoon Simply Organic® Ground Mustard
3 tablespoons red wine vinegar
1 tablespoon freshly squeezed lemon juice
1/2 teaspoon honey
2 tablespoons freshly grated Parmesan cheese
1/4 teaspoon Simply Organic® Black Pepper
6 long metal skewers
8 ounces crimini mushrooms
8 ounces grape tomatoes
1 small orange bell pepper, diced into 1-inch pieces
1 small eggplant, sliced into ¼-inch rounds
1 small yellow squash, sliced into 1/4-inch rounds
1 small zucchini, sliced into 1/4-inch rounds
Parmesan Italian dressing
1/4 cup fresh parsley, chopped
Directions
Bring a large pot of water to boil over high heat. Once boiling, add in a generous pinch of sea salt and the whole grain pasta. Cook according to package directions until al dente, about 8 to 10 minutes.
Drain and place the cooked pasta in a large bowl and add in a teaspoon of the grapeseed or olive oil. Toss and coat the pasta lightly to keep the pasta from sticking.
In a small bowl add in the minced garlic, oregano that has been rubbed in the palm of your hand, basil, parsley and ground mustard. Measure and add in the red wine vinegar, lemon juice, honey and freshly-grated Parmesan cheese. Season more or less to taste with a 1/2 teaspoon of sea salt and a 1/4 teaspoon black pepper. Whisk together while slowly pouring a steady stream of the remaining grapeseed or olive oil.
Preheat your grill. Real wood charcoal tastes best, but gas works fine. Avoid instant-light briquettes as they make food taste like lighter fluid. Aim for medium-high/high heat. If your grill lid has a thermometer built into the lid, it should read about 400 degrees. Thread all of the vegetables onto metal skewers, keeping each vegetable on its own skewer to ensure even cooking. Lightly brush with olive oil and grill for 8 to 12 minutes or until the vegetables are lightly charred yet still firm.
After all the vegetables are grilled, quarter the mushrooms, squash and zucchini. Place all of the vegetables into the bowl with the whole grain noodles and gently toss to combine. Pour desired amount of Parmesan Italian dressing over top and add in 1/4 cup chopped parsley, stir and serve warm or cold.
Tossing the pasta with a little oil helps keep the pasta from sticking.