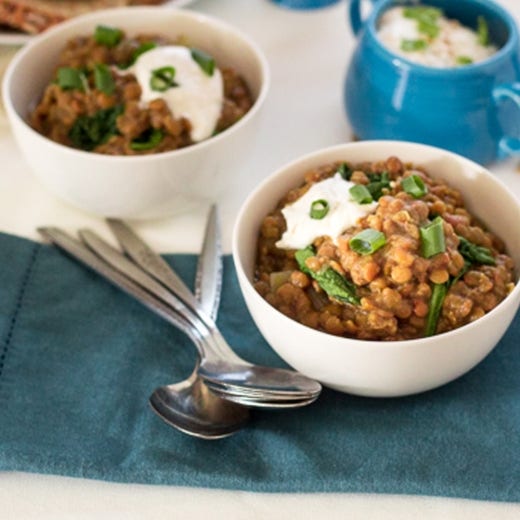 Garam Masala Lentil Soup with Coriander Yogurt
Low and slow is the best way to achieve lentils with incredible flavor and tender texture. Serve this fragrant, well-spiced lentil soup with a dollop of coriander yogurt — a fresh, flavorful alternative to heavy sour cream.
1 pound brown lentils, rinsed and sorted
2 quarts broth
1 large yellow onion, chopped
3 cloves garlic, peeled
1 teaspoon Simply Organic® Garam Masala
1 1/2 teaspoons Simply Organic® Coriander, divided
1/2 teaspoon Simply Organic® Turmeric
1/2 teaspoon Simply Organic® Cumin
1 teaspoon cane sugar
1 teaspoon white wine vinegar
8 ounces fresh spinach, roughly chopped
1/2 cup plain Greek yogurt
Juice of 1/2 lemon
Fresh cilantro, for garnish
Directions
In a 6-quart slow cooker set to low, combine lentils, broth, onion, garlic, garam masala, 1 teaspoon coriander, turmeric and cumin. Cook for 8 hours.
Turn off heat and add sugar and vinegar. Stir until well combined. Add spinach and stir until well combined. Let soup sit uncovered for 10 minutes, until spinach is wilted.
In a small bowl, combine yogurt, remaining 1/2 teaspoon coriander and lemon juice. Stir until well blended.
Top soup with spiced yogurt and fresh cilantro. Serve hot.