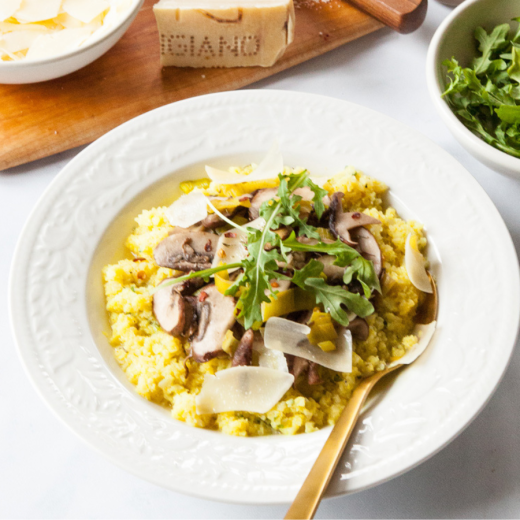 Creamy Cauliflower Polenta with Mixed Mushrooms and Leeks
Feel-good comfort food at its best, this vegetarian cauliflower polenta recipe brings big flavor with a mix of mushroom varieties, turmeric, thyme and black pepper.
3 tablespoons extra virgin olive oil, divided
4 cloves garlic, peeled and finely chopped
1 large head cauliflower, finely chopped or grated
1 3/4 cups vegetable broth
1/4 cup parsley, finely chopped
1/4 teaspoon sea salt or pink Himalayan salt
1 pinch Simply Organic® Black Pepper
1/3 cup fresh Parmesan, grated or shaved, plus more for garnish
1/4 teaspoon Simply Organic® Ground Turmeric
1 3/4 pounds mixed mushrooms (cremini, shitake, oyster and/or trumpets), stemmed and thinly sliced
1 large leek, halved lengthwise, then cut into 1-inch pieces
2 teaspoons Simply Organic® Thyme
Simply Organic® Crushed Red Pepper, for garnish
1 cup arugula, chopped, for garnish (optional)
Directions
In a large skillet over medium-high heat, heat 1 tablespoon olive oil. Add garlic and sauté for 1 minute, until fragrant. Add cauliflower, vegetable broth, parsley, salt and pepper. Stir until well combined.
Reduce heat to medium-low and cook for 15 to 18 minutes, until cauliflower is tender and mixture is creamy. Fold in Parmesan and turmeric.
In another large skillet over medium-high heat, heat remaining 2 tablespoons olive oil. Add mushrooms and a generous pinch of salt, then cook for about 10 to 12 minutes, until mushrooms release their water.
Add leek and cook for about 2 to 3 minutes, until soft and fragrant. Stir in thyme.
To serve, scoop a large ladle of polenta into each bowl, followed by a spoonful of mushrooms and leeks. Top with Parmesan, a sprinkle of crushed red pepper and a handful of arugula, if desired.
Recipe Tip
If you have a food processor available, save time by using it to finely chop the cauliflower.