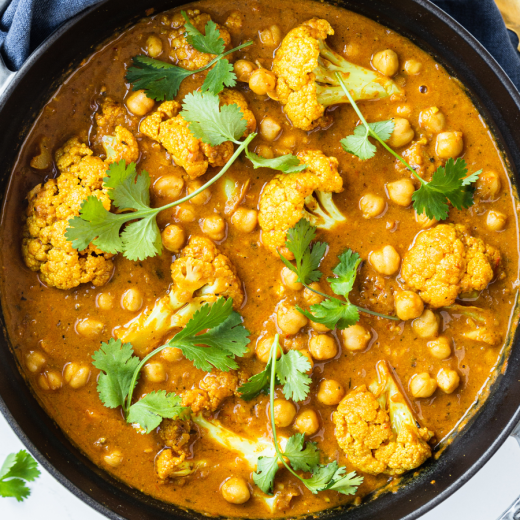 Chickpea And Cauliflower Turmeric Curry
A delicious weeknight favorite, this easy creamy Chickpea and Cauliflower Turmeric Curry is ready in no time. Loaded with ground spices and highlighting the flavor of Simply Organic® Turmeric, this dish is incredibly flavorful and delicious! Not only is this a great way to incorporate vegetables and plant protein into your diet, but it's the perfect recipe to always keep in your back pocket!
Bonus tip: This recipe also packs a curcumin kick thanks to Simply Organic® Ground Turmeric.
4 cloves garlic, chopped
1 red onion, chopped
1 (1-inch) knob ginger root, peeled and chopped
3 tablespoons olive oil
2 teaspoons Simply Organic® Turmeric
1 teaspoon Simply Organic® Cayenne
1 tablespoon Simply Organic® Coriander
4 teaspoons Simply Organic® Cumin
1/2 teaspoon Simply Organic® Black Pepper
1 can (14.5 ounces) crushed tomatoes
1 head cauliflower, cut into medium florets
2 cans (13.5 ounces each) full-fat coconut milk
Kosher salt, as needed
2 cans (15.5 ounces each) chickpeas, drained and rinsed
1 lime, juiced
Fresh cilantro, for garnish
Lime wedge, to serve
Steamed rice, to serve
Directions
Into a food processor, add garlic, onion and ginger, and process until coarsely chopped.
In a large, heavy-bottomed pot, heat oil over medium heat. Add bay leaves and sauté for 15 seconds. Add garlic, onion and ginger and sauté for about 8 minutes, until lightly golden brown.
Add turmeric, cayenne, coriander, cumin and black pepper and sauté for about 3 minutes, then add crushed tomatoes and stir to mix well.
Simmer over medium heat for about 5 minutes until oil separates and paste is brown. Use a wooden spoon to scrape any brown bits off bottom of pot.
Reduce heat to low and add cauliflower, coconut milk and kosher salt to taste. Stir to combine. Cover and simmer for 10 minutes. Add chickpeas and cook, uncovered, for 5 minutes. Mix everything to incorporate well.
Remove from heat, add lime juice and garnish with cilantro. Serve with steamed rice.