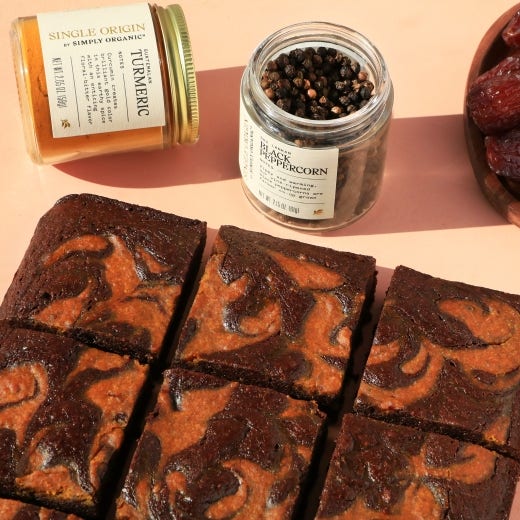 Almond Flour Brownies with Turmeric Date Tahini Caramel
Chocolate and tahini date caramel come together to create a one-of-a-kind taste in these delicious gluten-free brownies featuring surprising baking stars: Single Origin Guatemalan Turmeric and Sri Lankan Black Peppercorn.
For the Turmeric Tahini Date Caramel:
1/3 cup canned coconut milk
1/4 teaspoon kosher salt
2 tablespoons tahini
8 dates, pitted, soaked in warm water for 10 minutes
Pinch of Single Origin by Simply Organic® Sri Lankan Black Peppercorn
For the Brownie Batter:
1 stick unsalted butter
1 cup semisweet chocolate chips
3/4 cup granulated sugar
2 eggs, room temperature
1/2 cup almond flour
1/4 cup unsweetened cocoa powder
1/2 teaspoon baking powder
1/2 teaspoon kosher salt
Directions
Into a food processor, add all Turmeric Tahini Date Caramel ingredients and process for 1 to 2 minutes.
Once dates have begun to break down into small pieces, stream in 1 cup warm water and process until very smooth. Set aside.
Preheat oven to 350 degrees and line an 8-inch baking pan with parchment paper.
In a large heat-safe bowl, add butter and chocolate chips, and place over a simmering pan of water, making sure water is not touching bottom of bowl. Stir until smooth and completely melted. Remove from heat and let cool slightly.
Add sugar, eggs and vanilla; whisk until smooth.
Add almond flour, cocoa powder, baking powder and salt; whisk until well combined.
Scrape batter into prepared baking pan. Dollop about ½ cup date caramel in teaspoon-sized spoonfuls all over surface of batter. Using a skewer or butter knife, swirl batter with date caramel using an up and down motion until desired look is achieved. Reserve excess date caramel for another use.
Bake for about 35 minutes, or until the top is set and a cake tester inserted in the center comes out clean. Let cool slightly, cut into 9 squares and serve.