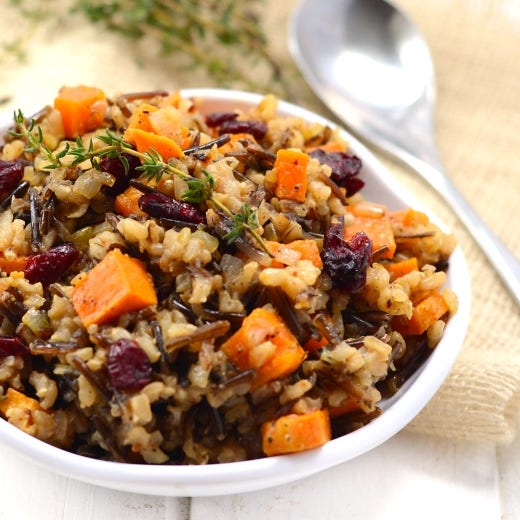 Wild Rice and Roasted Vegetables Medley
A simple savory wild rice and roasted vegetables recipe made with wild and brown rice, sweet potatoes, onions and cranberries.
1/2 cup uncooked wild rice
1/2 cup uncooked short grain brown rice
2 1/2 cups vegetable stock
4 teaspoons Simply Organic® All-Purpose Seasoning
1/2 teaspoon Simply Organic® Thyme
1 tablespoon balsamic vinegar
2 tablespoons olive oil
3 sweet potatoes, peeled and diced
1 yellow onion, finely diced
1/2 teaspoon sea salt or pink Himalayan salt
1/2 cup dried cranberries
Directions
In a medium-sized pot over high heat, combine wild rice, brown rice, vegetable stock and 2 teaspoons all-purpose seasoning. Bring to a boil, then reduce to a simmer. Cover and let cook for about 45 minutes, until all liquid has absorbed. Remove cover and let cool for about 10 minutes.
Add thyme and balsamic vinegar. Stir until well combined, then set aside.
Preheat oven to 375 degrees. Grease a baking sheet with olive oil. Evenly spread sweet potatoes and onion on baking sheet, then toss with olive oil until well coated.
Season with remaining 2 teaspoons all-purpose seasoning and salt, then bake for 25 minutes.
In a medium-sized bowl, combine rice and vegetables. Add cranberries and stir gently until well combined. Serve hot.