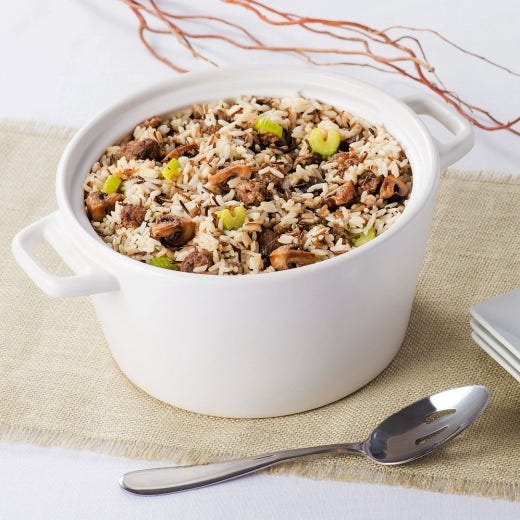 Wild Rice and Portobello Mushroom Stuffing
A generous addition of sage and thyme enhances the umami flavors of mushrooms and sausage in this wild rice stuffing recipe.
2 1/2 cups (16 ounces) wild rice, rinsed in cold water
8 cups chicken broth or vegetable broth
4 tablespoons butter
1 pound pork sausage (optional)
2 Portobello or 10 cremini mushrooms, diced
1/2 onion, minced
1 stalk celery, diced
1 tablespoon Simply Organic® Sage
1 tablespoon Simply Organic® Parsley
1 teaspoon Simply Organic® Thyme
1 pinch sea salt or Himalayan pink salt
1 pinch Simply Organic® Black Pepper
Directions
Preheat oven to 350 degrees.
In a medium-sized pot, combine rice and broth. Bring to a boil, reduce to a simmer and let cook for about 45 minutes, until rice is tender and splitting open.
In an enameled cast iron casserole dish or another oven-safe pot over medium heat, melt butter. If using sausage, add to butter and cook, breaking up with a spatula, for 8 to 10 minutes.
Add mushrooms, onion, celery, sage, parsley, thyme, salt and pepper. Cook, stirring frequently, until onions are translucent.
Add rice and broth mixture. Remove from stove and place in oven to bake for 20 minutes. Uncover and bake for 10 more minutes, until dressing has a bit of a crust on top.
Serve hot or let cool and refrigerate for up to 4 days.