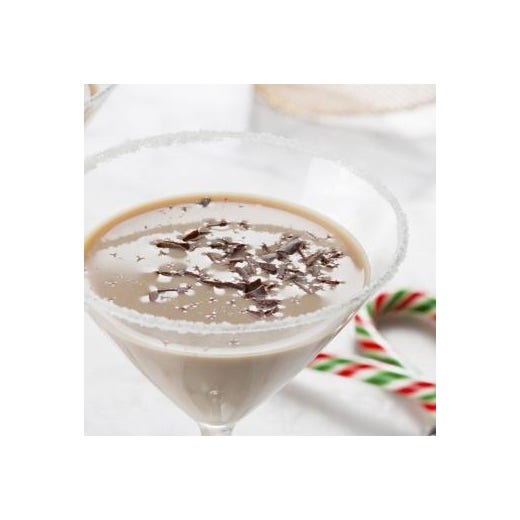 White Chocolate Peppermint Martini
Coffee liqueur gives a mocha twist to this refreshing white chocolate martini recipe complete with a brisk splash of organic peppermint flavor.
For Rims:
Water
Granulated sugar
For the Martini:
4 ounces coffee liqueur
4 ounces white chocolate liqueur
4 ounces vodka
4 ounces half and half
1/4 teaspoon Simply Organic® Peppermint Flavor
1/4 teaspoon Simply Organic® Pure Madagascar Vanilla Extract
Ice
4 peppermint sticks
Directions
To Rim the Glasses:
Fill a shallow plate or saucer with water. Cover another shallow plate or saucer with a layer of sugar. Dip rims of glasses (this recipe makes 4 drinks) in water, then in sugar. Place glasses in refrigerator or freezer to chill.
To Make the Martini:
In a cocktail shaker, combine coffee liqueur, white chocolate liqueur, vodka, half and half, peppermint flavor and vanilla extract. Fill with ice. Shake until condensation forms on the shaker.
Strain drink into chilled, rimmed glasses. Garnish each glass with a peppermint stick and serve immediately.