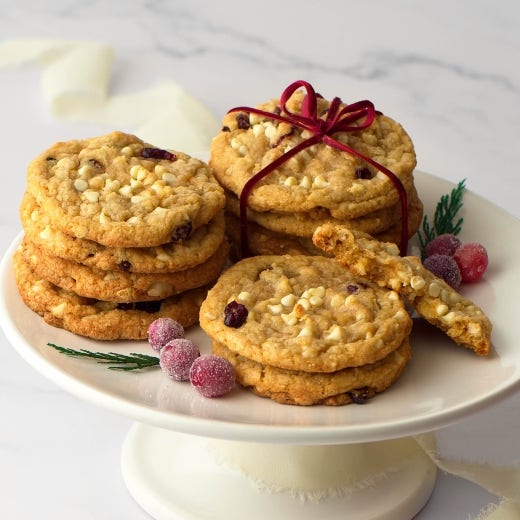 White Chocolate Cranberry Macadamia Cookies
White chocolate, cranberries and toasted macadamia nuts — these cookies will become a new holiday classic. With crispy edges, a chewy center and made with Simply Organic® Pure Madagascar Vanilla and Cinnamon, it's the flavor and texture pairing everyone's looking for in a holiday cookie.
Makes 24 large cookies.
2 cups all-purpose flour
1/2 teaspoon salt
1 teaspoon baking powder
1/4 teaspoon Simply Organic® Cinnamon
3/4 cup macadamia nuts, coarsely chopped
12 tablespoons unsalted butter, melted
1/2 cup brown sugar
3/4 cup white sugar
1 whole egg + egg yolk
1 cup mini white chocolate chips
1/4 cup dried cranberries
Directions
Preheat oven to 350 degrees.
In a large mixing bowl, combine flour, salt, baking powder and cinnamon.
On a baking tray, toast chopped macadamias for 5 to 7 minutes, until nutty and fragrant. Set aside to cool.
In a large mixing bowl, add butter, brown sugar and white sugar. Using a handheld mixer or stand mixer with whisk attachment, cream together for about 3 minutes, until fluffy. Add eggs and beat until thoroughly combined. Add vanilla extract and mix to incorporate.
Add half of the flour mixture and continue mixing until no more flour is visible. Add remaining flour, macadamia nuts, white chocolate and dried cranberries. Switch to a wooden spoon or rubber spatula and fold until combined. Do not over-mix.
Using a large cookie scoop, place 6 cookies on a baking tray at least 2 inches apart and around the baking sheet with none in the center. Bake 10 to 12 minutes until edges are golden. The center will still be fairly soft. Transfer cookies to a cooling rack. Repeat until all dough is used. They may seem a little undercooked, but they will continue baking as they cool.
RECIPE TIP
Place a few chocolate chips and cranberries on top of each cookie before baking for a polished,\ finishing touch.