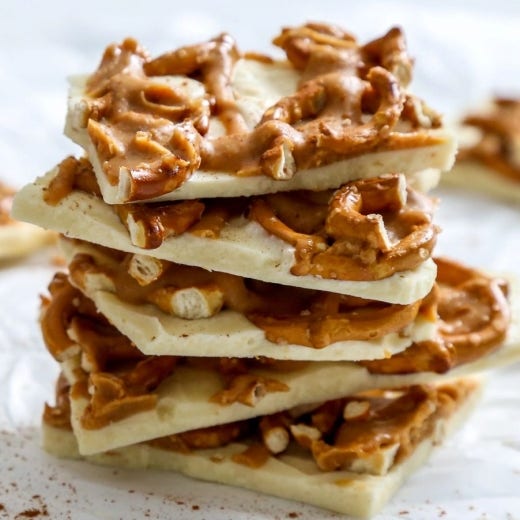 White Chocolate and Peanut Butter Pretzel Bark
This simple peanut butter pretzel bark recipe made with white chocolate and cinnamon makes a great dessert or sweet snack.
2 bags (11 ounces each) white chocolate chips
1 1/2 cups small pretzel twists
1/2 cup peanut butter
1/4 cup honey
2 tablespoons coconut oil
1 teaspoon Simply Organic® Pure Madagascar Vanilla Extract or Vanilla Bean Paste
1 teaspoon Simply Organic® Cinnamon
Directions
In a double boiler or a medium-sized glass bowl set on top of a saucepan partially filled with water and set over medium heat, heat white chocolate chips, stirring occasionally, until melted and silky-smooth.
Line a baking sheet with parchment paper. Pour melted chocolate onto sheet and spread to form an even, thin layer.
Carefully drop pretzels on top of hot melted chocolate.
In a small bowl, combine peanut butter, honey and coconut oil. Heat in microwave or over stove top for about 30 seconds. Add vanilla extract and cinnamon, stirring continuously.
Pour peanut butter mixture over pretzels, then refrigerate over night.
Use clean hands to break into pieces. Serve immediately or store in refrigerator until ready to serve.
RECIPE TIP
For a different take, add dried fruit and/or nuts.