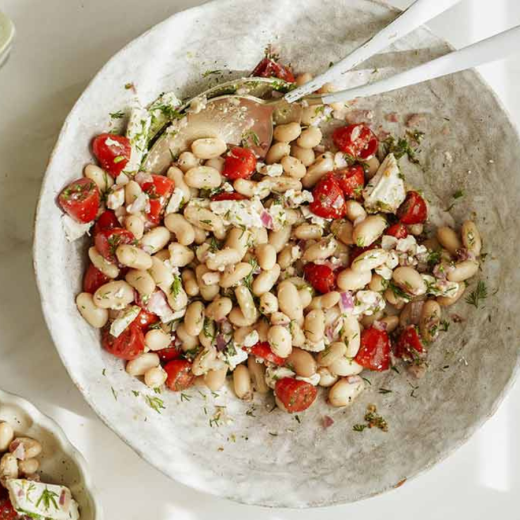 This simple white bean salad makes a great summer lunch entrée, or a dinner side dish for any time of year. Tossed with an easy-to-make dressing featuring olive oil, garlic and oregano.
FOR THE SALAD:
1 can (13.5 ounces) white beans, washed, strained and dried
1 cup halved red cherry tomatoes
½ cup Greek feta cheese
¼ cup chopped or sliced red onions
¼ cup fresh dill
FOR THE DRESSING:
2 tablespoons olive oil
Juice of 1 lemon
1 tablespoon Simply Organic® Oregano
2 teaspoons Simply Organic® Garlic Powder
1 teaspoon sea or pink Himalayan salt
½ teaspoon Simply Organic® Black Pepper
Directions
In a large salad bowl, add beans, cherry tomatoes, feta, red onions and dill.
In a small bowl, combine olive oil, lemon juice, oregano, garlic powder, salt and black pepper. Using a fork, whisk aggressively until an emulsified consistency develops.
Add desired amount of dressing to salad and gently toss to combine. Serve and enjoy!