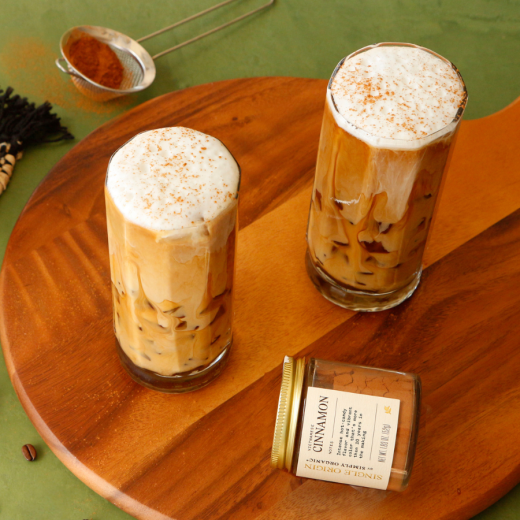 Vietnamese Cinnamon Iced Coffee
Vietnamese Cinnamon, sweetened condensed milk, and a pinch of sea salt are all it takes to take your French press game to the next level. This Vietnamese inspired beverage is sure to be the best iced coffee you've ever made at home.
1 cup (60 grams) coarsely ground coffee
Pinch of sea salt
1/4 cup sweetened condensed milk, dairy or coconut
1/2 cup cold whole milk, dairy, coconut, almond or oat
Directions
In an 8-cup French press, add coffee, cinnamon, and salt. Stir to combine.
In a medium pot, bring about 3½ cups water to a rolling boil. Pour 1 cup boiling water over coffee and let sit for 1 minute. Add remaining water, then stir, ensuring all coffee grounds are moistened. Cover and let steep for about 4 minutes; press coffee, then pour into a large glass to cool to room temperature.
Once cool, add sweetened condensed milk and stir to combine. Prepare 4 glasses with ice and divide coffee into glasses. Foam whole milk with a hand-held or electric frother*. Top each glass with some cold foam, then sprinkle with more cinnamon and serve.
Recipe Tip:
If using an electric frother, be sure to use the cold foam setting. If you do not have a frother, add the milk and an ice cube to a small jar with a tight-fitting lid and shake vigorously for about 2 minutes, or until foamy.