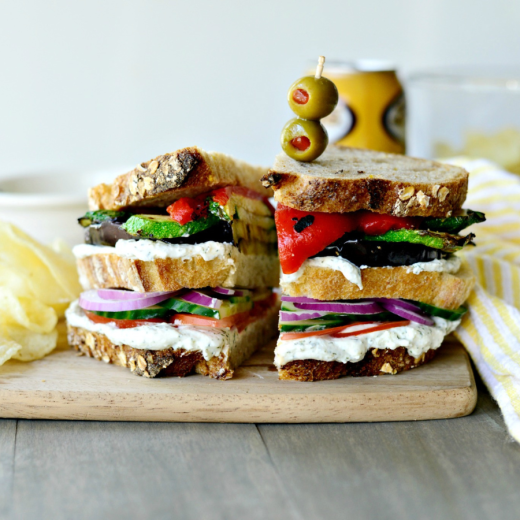 Vegetarian Dagwood Sandwich
This nod to the towering sandwich from the classic comic is piled high with summer's best vegetables and a creamy spread featuring aromatic dill and a peppercorn medley.
1 cup plain Greek yogurt
4 ounces Chevre
1 package Simply Organic Creamy Dill Dip
1 large red bell pepper
1 small eggplant, sliced lengthwise 1/4 inch
1 medium zucchini, sliced 1/4 inch on the bias
1 tablespoon olive oil
1 teaspoon cracked Simply Organic Black Pepper
1 tomato, sliced thin
8 slices English cucumber, sliced thinly on the bias
1 red onion, sliced paper thin and soaked in water for 10 minutes
6 slices sturdy bread
Green olives, for garnish
Directions
In a food processor, add Greek yogurt, Chevre and Simply Organic Dill Dip Mix. Blend until smooth and chill until ready to use.
Preheat your grill. Real wood charcoal tastes best, but gas works fine. Avoid instant-light briquettes as they make food taste like lighter fluid. Aim for high heat — if your grill has a thermometer built into the lid, it should read about 425 degrees.
Place the red pepper on to the hot grate, cover and grill until the skin is charred and blistered, turning halfway through, about 10 minutes. Immediately transfer red pepper to a bowl and cover tightly with plastic wrap for 10 minutes. Once cool enough to handle, remove the skin then slice in half to remove the stem and seeds.
While the pepper cools, reduce the grill temperature to medium-high, or about 375 to 400 degrees. Toss the eggplant and zucchini with olive oil and black pepper. Grill for 10 to 12 minutes, turning once grill marks appear and the vegetables are tender. Remove the vegetables from the grill and allow to cool slightly before assembling the sandwich.
To assemble the sandwich, smear a spoonful of the dill yogurt spread on the bottom bread layer. Top with tomato, cucumber and onion slices*. Top with a second slice of bread and spread again with the dill yogurt. Top the middle bread layer with grilled eggplant, zucchini and one half of the roasted red pepper per sandwich. Top with the last slice of bread.
Serve each sandwich whole for 2, or slice each sandwich in half to serve 4. Garnish with green olives secured with toothpicks.
Recipe Tip:
*Soaking the onions in cold water for at least 10 minutes will help eliminate their pungent bite, therefore not overpowering the sandwich.