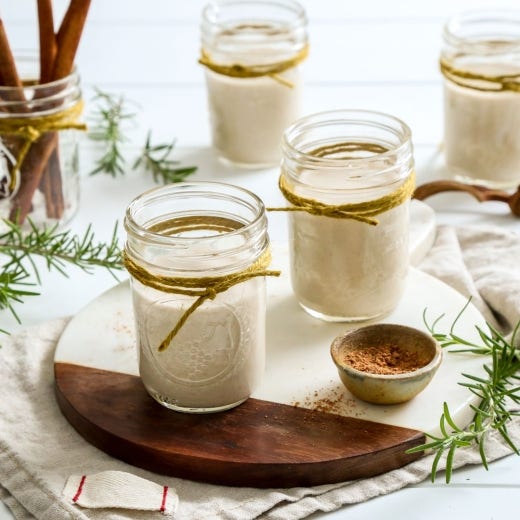 Vegan Eggnog with Cashew Milk
Whip up this simple vegan eggnog recipe made with cashew milk, organic vanilla extract, Ceylon cinnamon, clove and nutmeg.
Directions
In a high-speed blender, combine cashews, water and coconut milk. Blend for 60 seconds, until well combined.
Strain milk through a fine mesh sieve, then return to blender. Add dates, vanilla, cinnamon, cloves and nutmeg; blend for 40 to 60 more seconds, until smooth.
Pour eggnog into a storage jar and refrigerate for at least 8 hours, until thick, or up to 1 week.
Serve cold and topped with a pinch of nutmeg.
Recipe Tips:
To save time, skip the sieve step as the cashews leave behind very little, if any, pulp.
For an extra-thick eggnog, substitute coconut cream for the coconut milk.
Try this eggnog as a dairy-free coffee creamer!