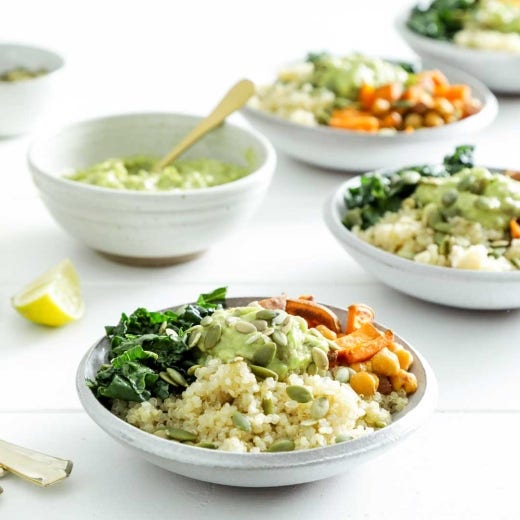 Vegan Buddha Bowl with Guacamole
Sweet potatoes, chickpeas, quinoa, kale and guacamole meet in this power-packed vegan Buddha Bowl recipe. The guacamole comes together in seconds thanks to Simply Organic Guacamole Mix Sauce.
1 cup quinoa, rinsed
1 3/4 teaspoons sea salt or Himalayan pink salt, divided
2 cups water
2 large sweet potatoes, scrubbed and chopped (no need to peel)
1 can (15.5 ounces) chickpeas, rinsed and drained
1 tablespoon olive oil
1 teaspoon Simply Organic® Cumin
1 bunch (about 10 large leaves) lacinato kale, stems removed, chopped
1 lime, juiced
1 clove garlic, minced
2 ripe avocados
1 packet Simply Organic® Guacamole Mix Sauce
1/2 cup roasted pumpkin seeds, for garnish
Directions
In a medium-sized pot over high heat, combine quinoa, 1/4 teaspoon salt and water. Bring to a boil, then reduce to a low simmer. Cook for about 10 minutes, until water is absorbed and quinoa is fluffy, then fluff quinoa with a fork.
Preheat oven to 425 degrees. On a sheet pan, toss sweet potatoes and chickpeas with olive oil, cumin and 3/4 teaspoon salt. Bake for 25 to 30 minutes, until chickpeas are crispy and sweet potatoes are soft.
In a medium-sized bowl, sprinkle remaining 3/4 teaspoon salt evenly over kale. Massage salt into kale for 15 seconds to break down the tough leaves. Add lime juice and garlic, then toss to combine.
In a separate medium-sized bowl, mash avocados. Add guacamole mix to the avocados and stir to combine.
Divide quinoa, kale, sweet potato and chickpeas among serving bowls. Top with guacamole and pumpkin seeds.
Recipe Tip:
Mix it up by adding other seasonal veggies — like zucchini, mushrooms or bell peppers — to the sweet potato and chickpea mixture.