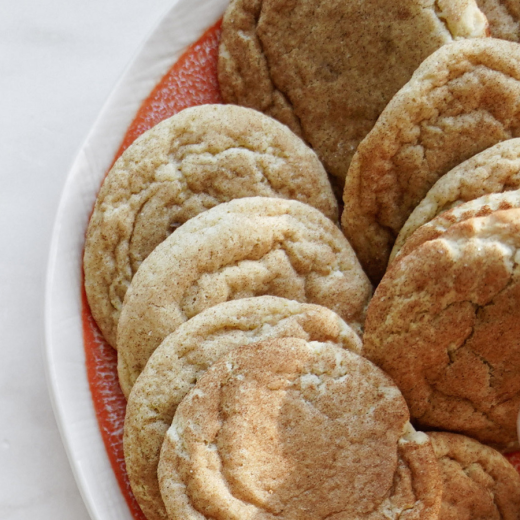 Vanilla Snickerdoodle Cookies
Buttery, delicious vanilla-cinnamon cookies enhanced with fresh vanilla bean flavor — made easy thanks to Simply Organic® Vanilla Bean Paste. Moist and chewy, these are great on their own — and delightful with home-made vanilla bean ice cream sandwiched between them.
Makes 4 dozen cookies.
For the Cookies:
2 3/4 cups flour
1 1/2 teaspoons cream of tartar
1 teaspoon sea or Himalayan pink salt
1/2 teaspoon baking soda
1 cup unsalted butter, softened
1 1/3 cup sugar
2 large eggs
For the Cinnamon-Sugar Coating:
1/4 cup sugar
2 teaspoons Simply Organic® Ceylon Cinnamon
1 pinch sea or Himalayan pink salt
Directions
To Make the Dough:
In a medium mixing bowl, whisk together flour, cream of tartar, salt and baking soda. Set aside.
Using a stand or hand mixer, cream together butter and sugar at medium-high speed for 4 to 5 minutes. Add vanilla extract and vanilla paste, continuing to mix, then add eggs one at a time. Mixture should be light and fluffy.
Reduce speed to low, add flour mixture, and mix just until combined. Don't overmix.
Chill dough in refrigerator for 30 minutes.
To Make the Cookies:
Preheat oven to 350 degrees.
In a small bowl, stir together sugar and cinnamon. Line a baking sheet with parchment paper.
Hand-shape chilled dough into balls about ping-pong-ball size. Roll each in cinnamon-sugar mixture to coat well.
On prepared baking sheet, place cookie balls 2 to 3 inches apart. Using the bottom of a glass measuring cup or large drinking glass, press cookie balls to flatten to a depth of 1/2 inch.
Bake on center rack for 7 to 8 minutes. Cookies should come out slightly under-baked, so they are soft enough to bite into once frozen if using for ice cream sandwiches. Cool cookies completely on wire rack. Store in an airtight container.