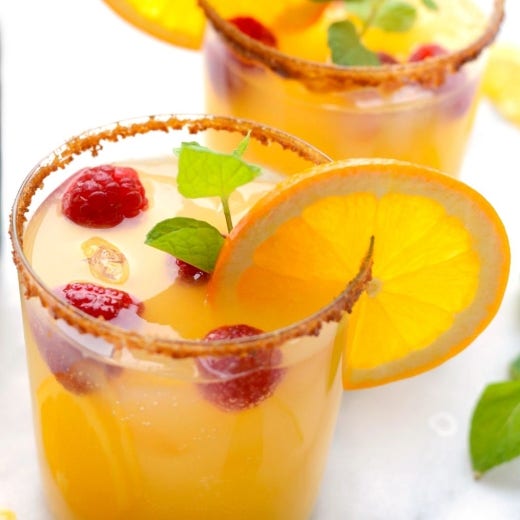 Vanilla Orange Cocktail with Mint
A lively cocktail recipe made with white rum, orange juice, vanilla extract and mint leaves, rimmed with coconut sugar and garnished with fresh raspberries.
Coconut sugar (enough to rim 2 glasses)
Ice cubes
2 ounces white rum
1 1/2 cups orange juice
1/2 teaspoon Simply Organic® Pure Madagascar Vanilla Extract
1/2 cup club soda
8 small mint leaves, for garnish
Fresh raspberries, for garnish
Directions
Cover a small plate with coconut sugar. Wet rims of two cocktail glasses with a little orange juice, then dip rims into coconut sugar.
Divide ice cubes, rum, orange juice and vanilla extract between glasses. Stir until well mixed.
Add mint leaves to each glass and fill to the top with club soda. Garnish with fresh raspberries and serve.