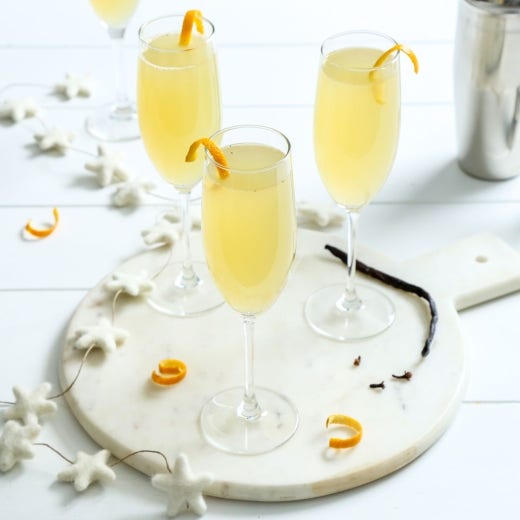 Vanilla Clove French 75 Cocktail
This French 75 cocktail takes a well-spiced twist with organic vanilla beans, cloves and cinnamon sticks.
FOR THE SIMPLE SYRUP:
2 cups water
2 cups sugar
4 Simply Organic® Whole Cloves
1 Simply Organic® Madagascar Vanilla Bean
3 Simply Organic® Cinnamon Sticks
Rind of 1 orange
FOR THE DRINKS:
6 fluid ounces Prosecco, chilled
2 fluid ounces apple brandy
Juice of 1 lemon
2 orange or lemon rind twists
Directions
To Make the Simple Syrup:
Fill a small pot with water. Bring to medium heat and slowly add sugar, cloves, vanilla bean, cinnamon sticks and orange rind. Once sugar has dissolved, remove from heat and let steep for 15 minutes, until it is a golden orange color.
Strain through a fine mesh sieve to remove cloves and orange rind. Store in an airtight container in the refrigerator.
To Make the Cocktails:
Divide Prosecco into 2 champagne flutes.
Split apple brandy and lemon juice between flutes, then add 1/2 fluid ounce simple syrup into each flute.
Stir with a long spoon, then serve with orange or lemon rind twist.
CHEF'S NOTES:
Makes enough simple syrup for up to 32 cocktails.
Store syrup in the refrigerator for up to 6 months.
To make a large, party-size serving, combine appropriate amount of simple syrup with corresponding amounts of Prosecco, apple brandy, lemon juice and orange or lemon rinds (1 fluid ounce simple syrup for every 2 servings). Stir until well combined, then pour into individual flutes.