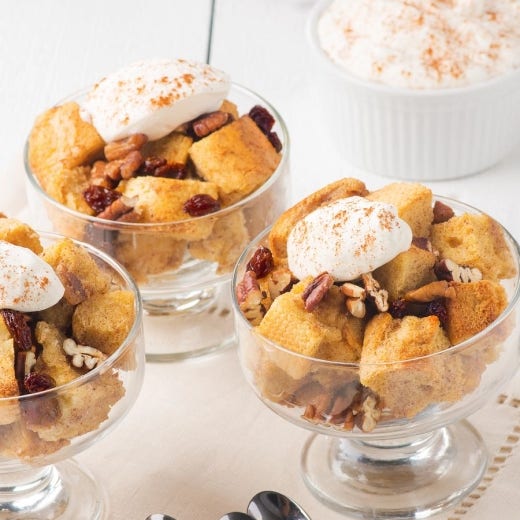 Vanilla Bourbon Bread Pudding
Sweet, fragrant vanilla pairs beautifully with smooth, oaky bourbon in this richly spiced bread pudding recipe.
For the Bread Pudding:
1/3 cup raisins
1/4 cup bourbon
9 cups day-old French bread, cubed
1/2 cup pecans, toasted and chopped
1 1/2 cups heavy whipping cream
3/4 cup milk
4 eggs, beaten
1/2 cup packed brown sugar
1 tablespoon Simply Organic® Pure Madagascar Vanilla Extract
2 teaspoons Simply Organic® Cinnamon
1 teaspoon Simply Organic® Ginger
1/4 teaspoon Simply Organic® Nutmeg
1 pinch Simply Organic® Cloves
1 pinch sea salt or Himalayan pink salt
For the Bourbon Whipped Cream:
1 cup heavy whipping cream
1/4 cup powdered sugar
2 teaspoons bourbon
1/2 teaspoon Simply Organic® Pure Madagascar Vanilla Extract
Directions
To Make the Bread Pudding:
Preheat oven to 350 degrees and lightly grease a 9-inch square baking dish.
Soak raisins in bourbon for 15 to 20 minutes, until raisins are plump. Drain raisins, reserving bourbon.
In a large bowl, combine bread, raisins and pecans. Toss until well combined, then set aside.
In a medium-sized bowl, combine heavy whipping cream, milk, eggs, brown sugar, reserved bourbon, vanilla, cinnamon, ginger, nutmeg, cloves and salt. Whisk until well combined. Slowly pour over bread and toss until evenly distributed.
Scrape mixture into prepared baking dish and press bread to help it absorb the liquid. Let stand for 20 to 30 minutes, until liquid is thoroughly absorbed.
Cover with foil and bake for 30 minutes. Remove foil, then bake for 20 to 30 more minutes, until golden and set. Let stand for 10 minutes, then serve with whipped cream.
To Make the Bourbon Whipped Cream:
In a small bowl, whip heavy whipping cream with electric beaters until stiff peaks form. Add powdered sugar, bourbon and vanilla. Whip just until combined.