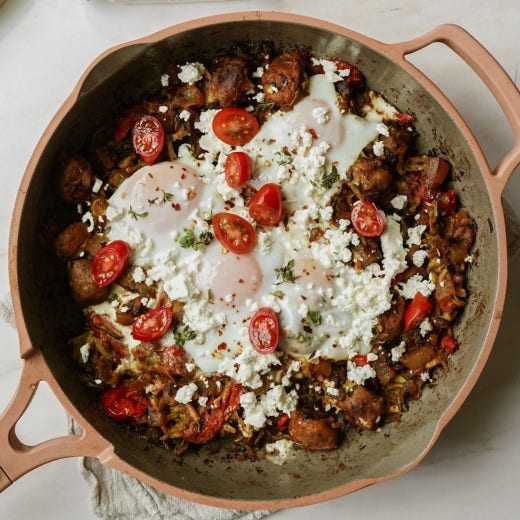 Umami Zucchini Breakfast Skillet
Zucchini makes for a healthy breakfast in this delicious one-skillet meal, paired with crisped red potatoes, onions and vegan sausage, complemented with tangy tomatoes and feta cheese, and seasoned with our Original Umami Blend.
2 tablespoons olive oil
2 medium red potatoes, cut into small bite-sized cubes
1 large yellow onion, finely chopped
3 tablespoons Simply Organic® Original Umami Blend
4 vegan or regular sausage links, cut into ½-inch cubes
½ cup cherry tomatoes, halved
1 large zucchini, shredded
4 large eggs
Toppings:
½ cup feta cheese
¼ cup cherry tomatoes, halved
Directions
Warm a large skillet over medium heat. Add olive oil and heat for 1 minute.
Add potatoes, stirring to coat with oil. Let brown and crisp for 2 minutes, stirring occasionally.
Add onion and cook for another 2 to 3 minutes, stirring occasionally, until onions are golden brown and potatoes are al dente. Add umami blend seasoning and stir to coat each potato well.
Add sausage and let each piece sear and develop a crispy layer. This may take up to 5 minutes. Stir occasionally to avoid burning. Add additional umami blend if desired.
Increase heat to high and add tomatoes and zucchini, gently stirring to combine.
Crack each egg into a separate part of the pan; cover and cook for 4 minutes.
Top with feta, tomatoes and red chili flakes to serve.