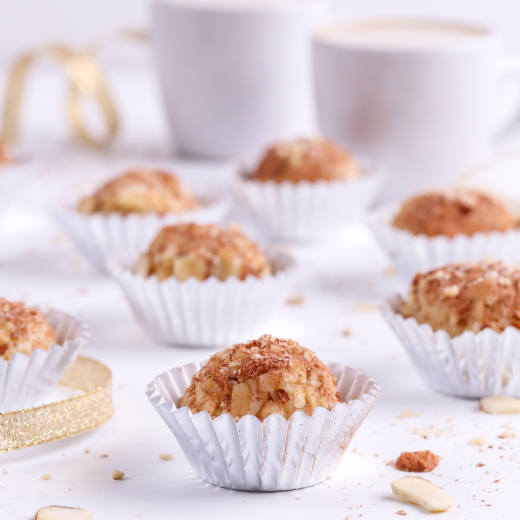 Toasted Almond Tiramisu Truffle
These spiked tiramisu truffles feature spiced rum and organic almond extract.
1/2 teaspoon Simply Organic® Almond Extract
11 ounces package white chocolate chips
1/2 cup mascarpone cheese
2 tablespoons butter, salted or unsalted
2 tablespoons spiced dark rum
2 tablespoons coffee, brewed
1/3 cup unsweetened cocoa powder
1/2 cup slivered almonds
Directions
In a large saucepan, over medium heat, combine the chocolate, butter and cheese.
Stirring frequently, heat until mixture is melted, smooth and silky in appearance.
Add the rum, almond extract and coffee, stirring until fully combined.
Into a greased 9x9 baking dish, pour the chocolate mixture. Place pan in refrigerator for 2 to 3 hours, or overnight, until the chocolate is solid and feels like taffy.
Before removing the chocolate, in a food processor, spice grinder or with a knife, finely chop almonds. Place in a bowl and set aside.
Remove chocolate from the refrigerator. Working quickly to avoid softening the truffles, and using an ice cream scoop, spoon about 2 tablespoons chocolate from the pan at a time. Quickly roll each scoop into a ball, roll in almonds and place in a mini cupcake liner.
Sprinkle the truffles with cocoa powder.
Place the truffles in the freezer for 30 to 60 minutes, until firm. Then move to refrigerator until ready to serve.
Dust with extra cocoa powder and chopped almonds just before serving, if desired.
Substitute spiced dark rum for plain dark rum, if desired.