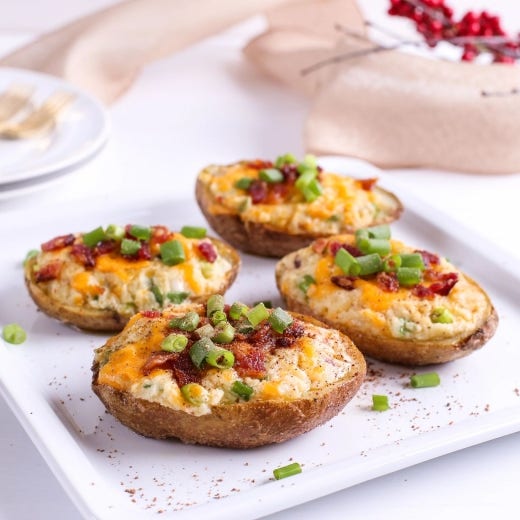 Thrice-Spiced Twice-Baked Potatoes
Twice-baked potatoes with a mouthwatering mix of organic spices and herbs.
8 Russet potatoes, washed
2 tablespoons sea salt or pink Himalayan salt
1/2 pound unsalted butter, sliced into chunks
1 cup chopped cooked bacon, fat strained off
1 cup sour cream
1 cup shredded sharp cheddar cheese, plus more for topping
1 teaspoon Simply Organic® Nutmeg
1 teaspoon Simply Organic® Cardamom
2 teaspoons Simply Organic® Thyme
1 teaspoon Simply Organic® Sage
Simply Organic® Black Pepper, to taste
1/2 teaspoon Simply Organic® Cayenne
5 green onions, thinly sliced, plus more for garnish
Directions
Preheat oven to 400 degrees.
Poke each wet potato 4 to 5 times with a fork, then toss with salt. Place directly on oven rack and bake for 1 hour, until cooked through (when pierced with a sharp knife, the knife comes out clean). Remove potatoes from oven and lower heat to 350 degrees.
In a large mixing bowl, combine butter, bacon bits and sour cream.
Using a clean towel to protect your hands from the heat, cut each potato in half lengthwise. Gently scrape out the insides of each potato into the mixing bowl, taking care not to tear the shell and leaving a thin layer of potato in the skin. Place hollowed out potato shells on a baking sheet.
Whip scraped-out potato into butter, bacon and sour cream mixture. Add cheese, spices and green onion. Mix until well combined.
Fill each potato shell to about an inch above the rim with the filling, top with cheese and bake for 20 more minutes, until cooked through and tops are browned. Garnish with green onion and serve hot.