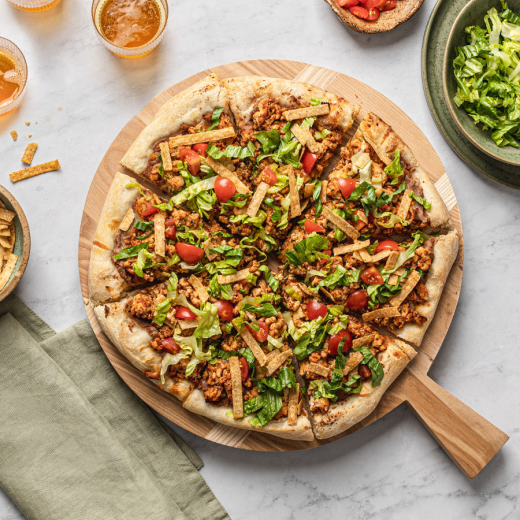 Featuring ground meat flavored up with Simply Organic Mild Taco Simmer Sauce, this easy Taco Pizza recipe is the perfect way to switch up your Tuesday tacos!
1 pound ground chicken, turkey or beef
1 14-inch pizza crust, fresh or pre-frozen
3/4 cup refried beans
1 cup cheese
1 1/2 cups lettuce, shredded
½ cup tomatoes, chopped
Tortilla chips
Directions
In a large skillet, place ground meat and cook, breaking it up with a wooden spoon, until meat is no longer pink. Stir in simmer sauce until warmed and set aside.
Meanwhile, preheat oven to 450 degrees.
On a baking sheet or pizza pan, place crust. Spread refried beans over crust; sprinkle cooked meat and cheese over top. Bake for 15 to 18 minutes, until cheese is melted and crust is browned.
Top pizza with lettuce, tomatoes and tortilla chips, and serve.