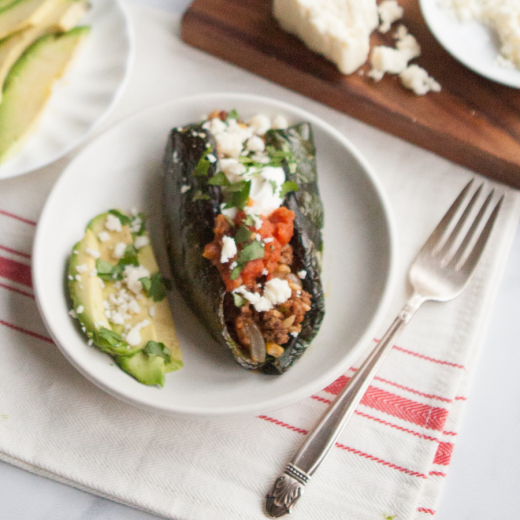 Stuffed Poblano Peppers with Ancho Chili
Take your stuffed pepper recipe to the next level with ancho chili powder, cumin, oregano and all your favorite garnishes.
6 poblano peppers
2 tablespoons olive oil, divided
1 onion, finely chopped
3 cloves garlic, minced
2 tablespoons tomato paste
2 teaspoons Simply Organic Cumin
1 1/2 teaspoons Simply Organic Oregano
2 teaspoons Simply Organic Ancho Chili Powder
10 ounces lean ground beef
1/2 teaspoon salt
1/4 teaspoon Simply Organic Black Pepper
3/4 cup fresh or frozen corn
1/2 cup long grain brown rice, cooked
1 tablespoon water
1 tablespoon safflower or canola oil
Optional garnish: salsa, sour cream, chopped cilantro, sliced avocado, Cotija cheese
Directions
Preheat oven to a high broil and place rack at top of oven.
Place whole poblano peppers on a baking sheet, then brush with olive oil. Broil for 3 to 4 minutes on each side, until peppers are lightly blistered. Turn off broil and preheat oven to 350 degrees.
Once cool enough to handle, peel away pepper skins and discard. Use a pairing knife to cut away the core and stem, then cut a slit down one side of each pepper. Use a spoon to scrape out the seeds.
In a large skillet over medium heat, heat olive oil. Add onion and sauté, stirring frequently, until translucent. Add garlic and cook for an additional 1 to 2 minutes.
Stir in tomato paste, cumin, oregano and ancho chili powder. Cook for 1 to 2 minutes, then add ground beef, salt and pepper. Cook for 3 to 5 minutes, until beef is browned.
Stir in corn, rice and water. Cook, stirring occasionally, for 1 to 2 minutes. Taste and add additional salt and pepper if desired.
Place peppers in a baking dish coated with safflower or canola oil and scoop beef filling into each. Bake for 20 to 22 minutes, until heated all the way through. Let cool slightly and garnish with toppings, as desired. Serve hot.