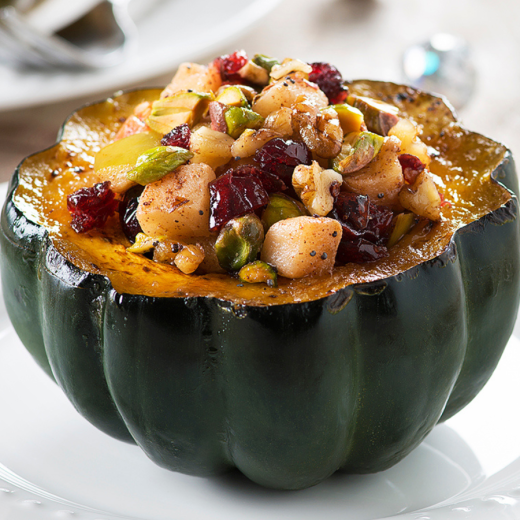 Stuffed Acorn Squash with Allspice
For this stuffed acorn squash recipe, organic spices come together with apples, cranberries, and nuts for a savory-sweet stuffing.
2 small acorn squash, cut in half horizontally
6 tablespoons unsalted butter, divided
2 tablespoons light brown sugar
1 small Granny Smith apple
1 small Honeycrisp apple
1/2 teaspoon Simply Organic® Ground Cinnamon
1/4 teaspoon Simply Organic® Ground Nutmeg
1/8 teaspoon Simply Organic® Ground Allspice
2 pinches sea or pink Himalayan salt, plus more for garnish
1/4 cup chopped walnuts
1/4 cup chopped pistachios, plus more for garnish
1/4 cup chopped dried cranberries
1 teaspoon Simply Organic® Pure Vanilla Extract
1/2 teaspoon Simply Organic® Whole Poppy Seed
Honey, for drizzling
Directions
Preheat oven to 350 degrees. In a large glass baking dish, add 4 tablespoons of butter and place in oven to melt it while oven preheats.
Slice 1/8 of an inch off the bottoms of each squash half so they will sit flat.
Remove baking dish from oven and sprinkle brown sugar evenly over bottom. Lay squash face down (with "bottom" facing up) so exposed flesh is touching brown sugar mixture. Bake for 40 to 50 minutes or until knife pierces easily.
Meanwhile, in a 10-inch skillet, melt remaining 2 tablespoons butter, then add in diced apples. Sauté for 8 to 10 minutes until soft, but still firm and textured. Add cinnamon, nutmeg, allspice and salt.
Transfer stuffing mixture to a medium-sized bowl and add chopped walnuts, pistachios and cranberries. Add vanilla extract and poppy seeds, and toss together until well combined.
Onto a platter or individual plates, invert baked squash. Spoon up some brown sugar and butter from baking dish and drizzle it into center and along tops of squash.
Fill squash centers with apple filling and top with more chopped pistachios and a drizzle of honey. Serve warm.
Recipe Tip:
Replace some (or all) of the walnuts with pecans for a sweeter, richer nut flavor.