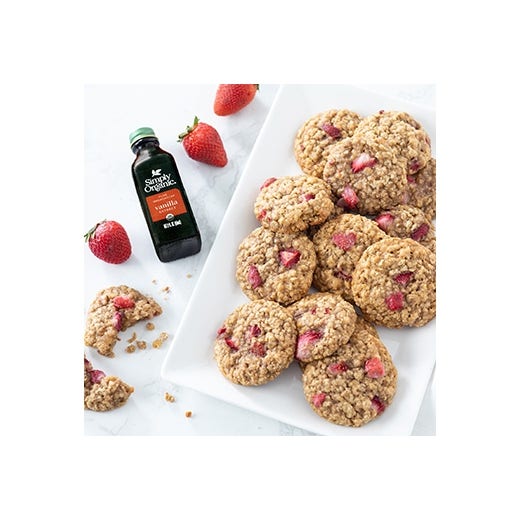 Strawberry Banana Bread Cookies
Fragranced by pure, organic Madagascar vanilla extract and warm, organic cinnamon, this Strawberry Banana Bread Cookies recipe takes arguably the best part of a muffin — the golden top — and turns it into a crave-worthy cookie.
Makes 36 cookies.
½ cup refined coconut oil, room temperature
¾ cup firmly packed light brown sugar
2/3 cup granulated sugar
1 large egg, room temperature
¾ cup mashed ripe banana, room temperature (about 2 large bananas)
2 teaspoons Simply Organic® Pure Madagascar Vanilla Extract or Vanilla Bean Paste
1¼ cups all-purpose flour
½ cup whole wheat flour
1 teaspoon baking soda
1 teaspoon kosher salt
1 teaspoon Simply Organic® Cinnamon
2 cups quick-cooking oats
3/4 cup chopped fresh strawberries (1/8 - 1/4-inch pieces)
Directions
Preheat oven to 350 degrees. Line 3 rimmed baking sheets with parchment paper.
In the bowl of a stand mixer, stir coconut oil by hand until softened and smooth. Add sugars and; using the paddle attachment, beat at medium speed for about 2 minutes, until well combined, stopping to scrape sides of bowl. Beat in egg. Add banana and vanilla; mix until combined.
In a medium bowl, whisk together flours, baking soda, salt and cinnamon. Add flour mixture to banana mixture all at once; and beat at medium-low speed until nearly combined, stopping to scrape sides of bowl. Add oats; mix just until combined. Gently fold in strawberries.
Using a 1½-tablespoon spring-loaded scoop, scoop dough onto prepared pans, placing dough balls at least 1½ inches apart.
Bake, one pan at a time, for 8 to 12 minutes, until edges and tops are just set but centers still seem slightly underdone, rotating pan halfway through baking. Let cool on pan for 5 minutes and serve warm, or let cool completely on wire racks.
CHEF NOTES:
A 3½- to 4-inch round cutter can be used to form still-warm cookies into a more circular shape, if desired. Place cutter around 1 cookie; gently move cutter in a circular motion while making contact with edges of cookie until desired shape is reached. Repeat as needed.