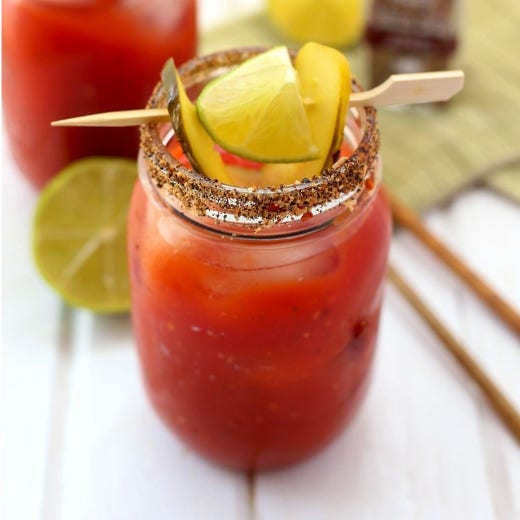 Sriracha and Pepper Bloody Mary
Kick your Bloody Mary up a notch with this spicy sriracha and pepper rendition.
1 3/4 cups tomato juice
1/4 cup vodka
Juice of 1 lime (reserve squeezed lime for rim)
1 teaspoon horseradish
1 teaspoon Worcestershire sauce
1 teaspoon Sriracha
1 teaspoon Simply Organic® Spice Right Pepper & More
Directions
FOR DRINK:
On a small plate, spread a generous amount of Pepper & More seasoning.
Along the rim of two glasses, rub lime, then dip into pepper and more seasoning.
In a large bowl or jug, combine all ingredients apart from Pepper & More seasoning.
Stir until well mixed.
Serve over ice and top with pickled vegetables and celery, if desired.
To increase heat, add additional sriracha.
FOR GARNISH: