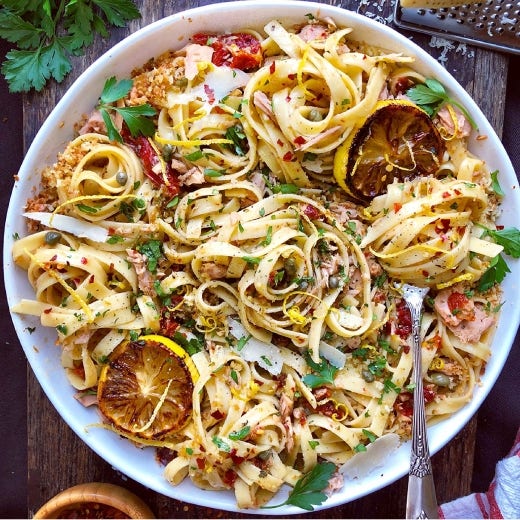 Spicy Tuna Pasta with Oregano and Crushed Red Pepper Flakes
Hosting a Feast of The Seven Fishes or just need an elegant pasta dish to serve during the busy holiday season? We used Simply Organic® Red Pepper Flakes, Oregano and Italian Seasoning to create this herbaceous and spicy pasta dish. It's studded with oil-packed tuna, sun dried tomatoes, capers and lemon, so it's full in flavor — but takes no time at all. Plus, using a high-end, oil-packed tuna is a great way to serve fish without having to worry about having access to fresh catch.
1 pound pasta of choice (we used a rustic linguine)
3 tablespoons olive oil, divided
1/2 cup panko breadcrumbs
1/2 tablespoon Simply Organic® Italian Seasoning
4 cloves garlic, thinly sliced
2 oil-packed anchovy fillets, optional
2 teaspoons Simply Organic® Crushed Red Pepper
1 teaspoon Simply Organic® Oregano
3 tablespoons capers, drained and rinsed
1/4 cup oil-packed sun-dried tomatoes, thinly sliced
1/2 cup dry white wine
2 jars (5 ounces each) oil-packed tuna, drained and broken up with a fork
Juice and zest of one lemon
Kosher salt, to taste
Freshly ground Simply Organic® Black Peppercorns, to taste
Chopped fresh parsley, optional
Freshly ground Pecorino Romano, for serving
OPTIONAL GARNISHES:
Green olives, baby arugula, peppadew peppers
Directions
Bring a large pot of salted water to a boil. Once boiling add the pasta and cook to al dente. Drain and reserve 1/2 cup of the cooking liquid.
Meanwhile, heat 1 tablespoon olive oil in a large skillet over medium heat and add panko and Italian seasoning. Cook until the panko turns golden brown. Place panko in a small bowl and set aside.
Wipe out skillet and add remaining olive oil. Heat to a simmer over medium heat. Add garlic, anchovies (if using), red pepper flakes and oregano and cook until anchovies start to melt and the garlic is fragrant (about 1 minute).
Reduce heat and add capers, sun-dried tomatoes and white wine. Cook until reduced by half, then add cooked pasta and stir to combine.
Serve the pasta topped with toasted panko, chopped parsley and freshly grated Pecorino Romano.
Off the heat, add tuna, lemon juice and zest and a bit of the reserved pasta water (just enough to form a sauce). Taste for seasoning and adjust as needed with salt and pepper.