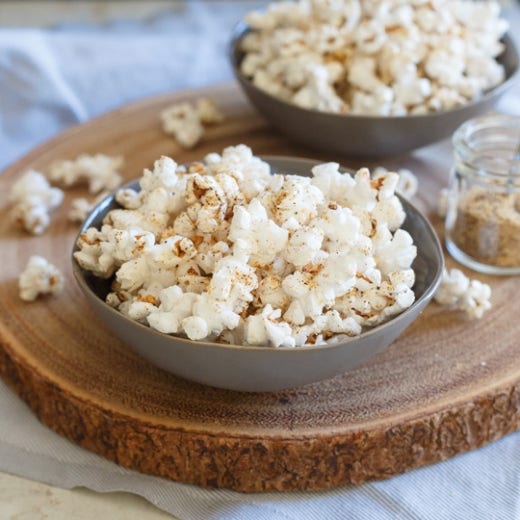 Spicy Homemade Popcorn with Nutritional Yeast
This easy spicy popcorn is a delicious mix between taco seasoning and nacho flavors, a cheesy spice filled healthy snack!
1 tablespoon Simply Organic® Nutritional Yeast
1/2 tablespoon Simply Organic® Chili Powder
1/2 teaspoon Simply Organic® Garlic Powder
1/4 teaspoon Simply Organic® Onion Powder
1/4 teaspoon Simply Organic® Cumin Seed
1/4 teaspoon Simply Organic® Crushed Red Pepper
1/8 teaspoon Simply Organic® Black Pepper
1/4 teaspoon kosher salt
1 tablespoon coconut oil, divided
1/2 cup popcorn kernels
Directions
Combine spices in a small bowl and mix together.
Place ½ tablespoon coconut oil in a medium sauce pot over high heat.
Once hot, add the popcorn kernels and cover with a lid.
Shake the pot to coat the kernels in the melted coconut oil.
Once kernels start to pop, shake the pot continuously to prevent burning. Keep the pot on the heat until popping slows to about 3 seconds apart.
Pour the popcorn into a large bowl and toss with the remaining ½ tablespoon coconut oil.
Add the spice mixture to the bowl and toss well with a spatula until it coats all the popcorn evenly.
Serve immediately.