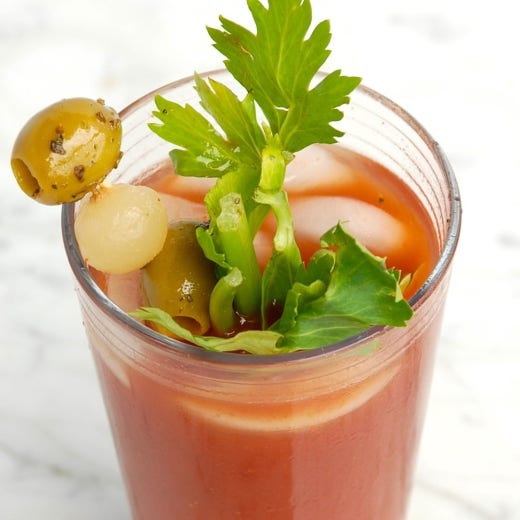 A twisted mix of cardamom, garam masala and ground chipotle infuse this uniquely spiced Bloody Mary recipe with devilishly distinctive flavor. For your next Halloween party, float a radish-and-olive "eyeball" on top for an extra spooky touch (directions included).
2 ounces vodka
3 ounces organic vegetable juice, such as R.W. Knudsen Very Veggie®
1 ounce stout or other dark beer
2 dashes Worcestershire sauce
1 teaspoon caper or dill pickle brine
1/2 ounce lemon juice
1/2 teaspoon prepared horseradish
1/8 teaspoon Simply Organic® Chipotle Powder
1 pinch Simply Organic® Ground Cardamom
1 pinch Simply Organic® Garam Masala
1 pinch Simply Organic® Black Pepper
1 pinch celery salt
1 medium-large radish
1 small Spanish olive
Directions
For the Drink:
Salt the rim of a highball glass and fill with ice. In a tall shaker, mix all ingredients, then fill with ice. Seal and shake vigorously for 10 to 15 seconds.
Strain the mix over the ice, float the radish "eyeball" garnish on top and serve.
For the Garnish:
Using a melon baller or apple-coring tool, carve a hole the size of the Spanish olive out of the stem-end of the radish (it looks most "ghoulish" if the radish's root is still attached). Stuff the olive, pimiento-side out, into the hole in the radish. Repeat as needed for additional drinks.
CHEF TIPS:
This recipe multiplies well to make large batches. Multiply the above ingredients by four or eight and stir in a pitcher with ice, rather than use the shaker. It's also delicious without the alcohol, simply omit if desired.
Serve with a fresh fennel frond or lovage to use as a straw.