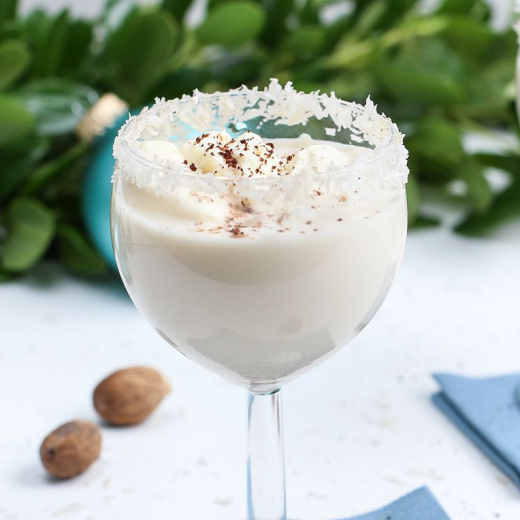 This coconut-based spiced rum coquito recipe will take your senses to the tropics.
For the Rims:
1/4 cup shredded coconut
1/3 cup sugar
1 pinch Simply Organic® Ground Cloves
For the Coquito:
1 can (15 ounces) coconut milk
1 cup coconut cream
1 cup whole milk
1 cup heavy cream
2 tablespoons organic cane sugar
1/2 cup white rum
1 teaspoon Simply Organic® Pure Madagascar Vanilla Extract or Vanilla Bean Paste
1/2 teaspoon Simply Organic® Cloves, plus more for topping
1/4 teaspoon Simply Organic® Cinnamon
1/4 teaspoon Simply Organic® Nutmeg, plus more for topping
Whipped cream, for topping
Directions
To Rim the Glasses:
In a wide shallow bowl, combine coconut, sugar and cloves. Stir until well blended.
Dip rims of 5 glasses into a bowl of water, then into coconut-sugar mixture.
Place glasses in freezer for 20 to 30 minutes.
To Make the Coquito:
In a blender, combine coconut milk, coconut cream, whole milk, heavy cream, sugar, white rum, vanilla, cloves, cinnamon and nutmeg. Pulse for 2 minutes, until frothy and thick.
Pour into chilled glasses and top with whipped cream, a pinch of cloves and a pinch of nutmeg.
RECIPE TIP
For a colder drink, chill the coquito mixture in the refrigerator for 30 minutes before serving.