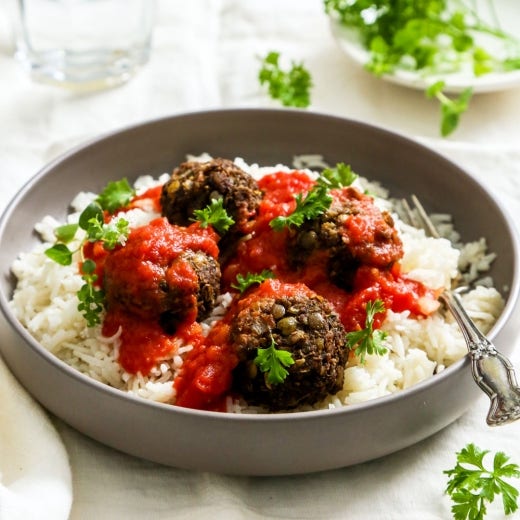 Spanish Vegan Meatballs with Smoked Paprika
Vegan meatballs made with lentils, mushrooms and garbanzo bean aquafaba are dressed in homemade tomato sauce and brought to life with Spanish smoked paprika and other spices.
1 cup French green lentils
2 1/2 cups water
3 tablespoons extra-virgin olive oil, divided
7 medium baby bella mushrooms, chopped
3/4 large white onion, chopped + divided
1/2 cup breadcrumbs
3 tablespoons garbanzo bean aquafaba (juice from can)
1 teaspoon Simply Organic® Parsley
1 teaspoon Simply Organic® Oregano
1/2 teaspoon Simply Organic® Garlic Powder
1 1/4 teaspoons Simply Organic® Smoked Paprika
1/2 teaspoon Simply Organic® Nutmeg
3 garlic cloves, minced
1 can (15 ounces) tomato sauce
1 can (14 ounces) diced tomatoes
1/2 teaspoon sea salt
Fresh parsley, for garnish
Directions
To Make the Meatballs:
In a large saucepan, bring lentils and water to a boil. Reduce heat and let simmer for 20 to 25 minutes, until lentils are soft. Drain extra water and rinse lentils, then set aside.
Preheat oven to 400 degrees.
In a food processor, combine lentils, sautéed mushrooms and the remaining chopped onions, breadcrumbs, aquafaba, parsley, oregano, garlic powder, smoked paprika and nutmeg. Pulse for about 15 to 20 slow pulses, until mixture is easy to pick up and form into small balls.
Form "meatballs" and place onto a parchment-lined baking sheet. Bake for 25 minutes, flipping halfway through.
To Make the Sauce:
In the same saucepan, heat olive oil. Sauté remaining chopped onions for 5 minutes, stirring occasionally, then add garlic and sauté for 1 more minute, until fragrant. Add remaining 1 teaspoon smoked paprika. tomato sauce, tomatoes and salt, to taste. Bring to a boil, then reduce to a simmer for about 15 minutes.
Serve over rice with sauce and garnish with fresh parsley.
In the same saucepan or a medium-size skillet, heat 1 tablespoon olive oil. Add mushrooms and 1/3 of the chopped onions. Sauté, stirring occasionally, for 7 minutes.
RECEIPE TIPS
For extra flavor, cook lentils in vegetable broth or half vegetable broth and half water. To save time on serving day, prepare the meatballs and sauce ahead of time. Freeze meatballs in their raw state and bake them when you're ready, adding a few extra minutes onto the baking time. Refrigerate or freeze sauce for up to 1 week.