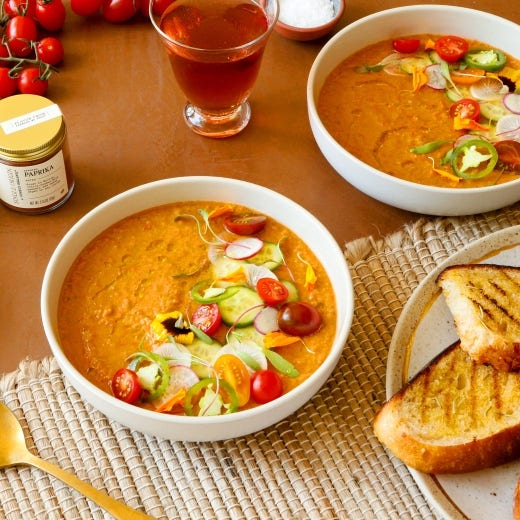 This authentic cold soup made from fresh vegetables is the perfect way to cool off after those hot summer days. Light and flavorful with sweet depth from Spanish Paprika, this Spanish dish is the perfect complement to any meal.
FOR THE GAZPACHO:
10 plum tomatoes, seeded and chopped
1 English cucumber, seeded and chopped
1 green pepper, seeded and chopped
1 jalapeño, seeded and chopped
1 shallot, roughly chopped
1/ 4 cup olive oil
2 tablespoons sherry vinegar
2 teaspoons Single Origin by Simply Organic® Spanish Paprika
Sea salt, to taste
Freshly ground Single Origin by Simply Organic® Sri Lankan Black Peppercorn
FOR SERVING:
4 slices sourdough bread
Olive oil, as needed
Single Origin by Simply Organic® Spanish Rosemary to taste
TO GARNISH (OPTIONAL):
Cherry tomatoes, halved
Cucumbers, thinly sliced
Radishes, thinly sliced
Nasturtium flowers
Olive oil
Directions
In a high-speed blender, add plum tomatoes, cucumber, green pepper, jalapeño, shallot, olive oil, vinegar, Spanish Paprika, sea salt and pepper. Process until smooth, adding cold water as needed to reach your desired consistency. Taste and adjust seasoning, adding more salt, pepper, and vinegar as needed. Chill for at least 1 hour.
One chilled, heat a grill or skillet over medium heat. Brush bread lightly with olive oil, then sprinkle with rosemary. Grill for about 1 minute per side, or until golden brown and toasty.
Divide chilled soup among 4 bowls, add desired garnishes and serve with grilled bread.