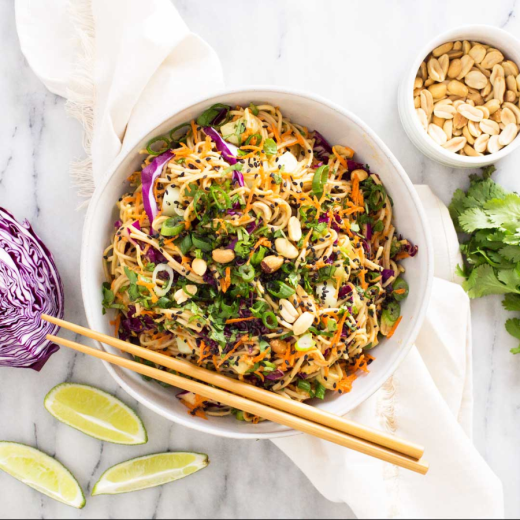 Soba Noodle Salad with Ginger Sesame Dressing
Cloaked in an alluring, spicy ginger-peanut dressing and laced with black sesame seeds, this soba noodle salad recipe bursts with flavor, texture and color.
FOR THE SALAD:
8 ounces dried soba noodles
3 large carrots, shredded
1 cup shredded red cabbage
1 large cucumber, peeled and cut into small cubes
4 scallions, thinly sliced
1/4 cup Simply Organic® Black Sesame Seed
1/2 cup cilantro, chopped
FOR THE DRESSING:
5 tablespoons rice vinegar
3 tablespoons peanut butter
2 tablespoons brown sugar
4 tablespoons toasted sesame oil
3 1/2 tablespoons soy sauce
1 tablespoon honey
1/2 teaspoon salt or pink Himalayan salt
1/2 teaspoon Simply Organic® Garlic Powder
1/2 teaspoon Simply Organic® Ground Ginger
1/4 teaspoon Simply Organic® Cayenne
1/2 teaspoon Simply Organic® Crushed Red Pepper
FOR GARNISH:
1 pinch Simply Organic® Black Sesame Seeds
1/3 cup roasted peanuts
Lime wedges
Directions
Bring a medium-sized pot of water to a boil over high heat. Add soba noodles, reduce heat and simmer for about 7 to 8 minutes, until noodles are tender. Drain in a colander and run cold water through noodles.
In a large bowl, toss soba noodles, carrots, cabbage, cucumber, scallions, sesame seed and cilantro.
Into a small bowl, add rice vinegar, peanut butter, brown sugar, sesame oil, soy sauce, honey, salt, garlic powder, ginger, cayenne and crushed red pepper. Whisk until well combined.
Pour dressing over noodles and toss until well combined. Garnish with sesame seeds and peanuts, then serve with lime wedges.