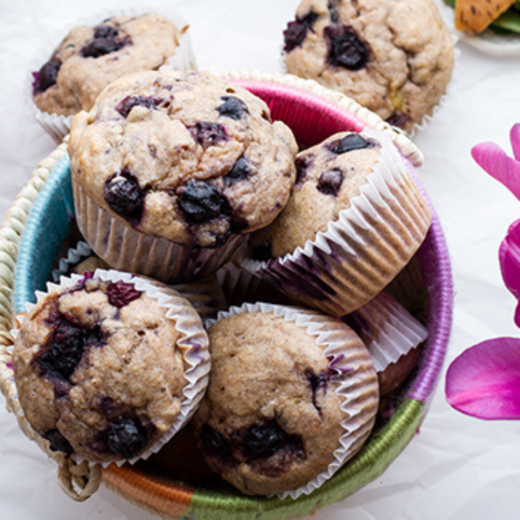 This may look like your typical blueberry muffins recipe but it's hiding a healthy little secret. Packed inside is a cup of whichever vegetable or fruit puree you have on hand (our favorite is squash or a combination of squash and sweet potato).
1 1/4 cups whole wheat pastry flour
1 cup all-purpose flour
1 1/2 teaspoons baking powder
2 teaspoons Simply Organic® Cinnamon
1/2 teaspoon baking soda
1/4 teaspoon sea salt or pink Himalayan salt
1/2 teaspoon Simply Organic® Nutmeg
1 cup buttermilk
3 teaspoons packed brown sugar
1 teaspoon cooking oil (vegetable, grapeseed, coconut, etc.)
1 cup puréed vegetable or fruit (such as squash, sweet potato, carrot, apple,& peach)
3 medium-sized ripe bananas, peeled
1 1/4 cups blueberries, fresh or frozen
Directions
Preheat oven to 400 degrees and grease or line a muffin pan.
In a large bowl, combine flour, baking powder, cinnamon, baking soda, salt and nutmeg. Whisk until well combined.
In a separate bowl, combine buttermilk, brown sugar, oil, puréed vegetable or fruit and bananas. Mix until well combined.
Make a well in the dry ingredients and whisk in wet ingredients until just combined. Fold in blueberries.
Divide mixture into muffin pan. Bake for about 18 to 22 minutes, until the tops are golden brown and a toothpick inserted in the centers comes out clean.
Let cool for 10 minutes in the pan, then move muffins to a cooling rack for at least 5 minutes before serving.
Recipe Tip:
Store leftovers in the fridge for a few days or freeze them.