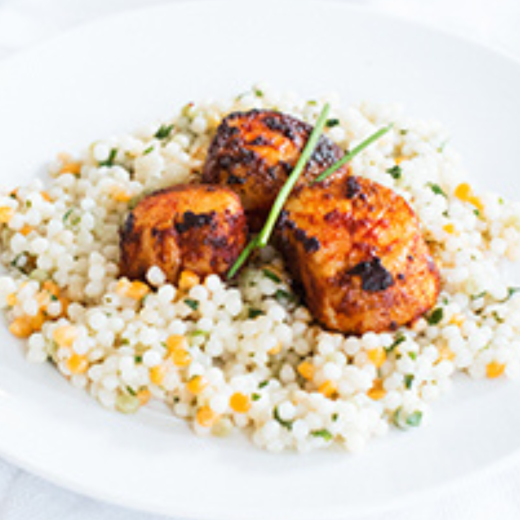 Smoked Paprika Seared Scallops with Lemon Herb Couscous
A simple, elegant seared scallops recipe — dusted with smoked paprika and paired with zesty lemon herb couscous.
1 1/4 cups water
1 cup pearl couscous (tricolor, if possible)
1 teaspoon + 1 pinch sea salt or pink Himalayan salt, divided
1/4 cup parsley, chopped
1 tablespoon chives, chopped, plus more for garnish
1 tablespoon olive oil
2 tablespoons fresh lemon juice
6 medium scallops, removed from tough side muscle
1 tablespoon Simply Organic® Smoked Paprika
1 tablespoon grapeseed oil
Directions
In a medium-sized pot over high heat, bring water to a boil. Add couscous and 1/2 teaspoon salt. Reduce heat, cover pot and allow to simmer, stirring frequently, for 8 to 10 minutes, until water is fully evaporated.
Add parsley, chives, olive oil, lemon juice and a pinch of salt. Stir until well combined, then remove from heat and set aside.
Rinse scallops with cold water and pat dry with a paper towel.
In a small bowl, combine smoked paprika and remaining 1/2 teaspoon salt. Roll scallops in seasoning until well coated.
In a skillet over medium-high heat, heat grapeseed oil. Once the oil is very hot, add scallops (they should sizzle immediately). Reduce heat to medium and sear each side for about 2 1/2 minutes, until a golden crust forms. Serve over couscous, garnished with chives.
Recipe Tip:
If desired, substitute any other cooking oil with a high smoke point for the grapeseed oil.