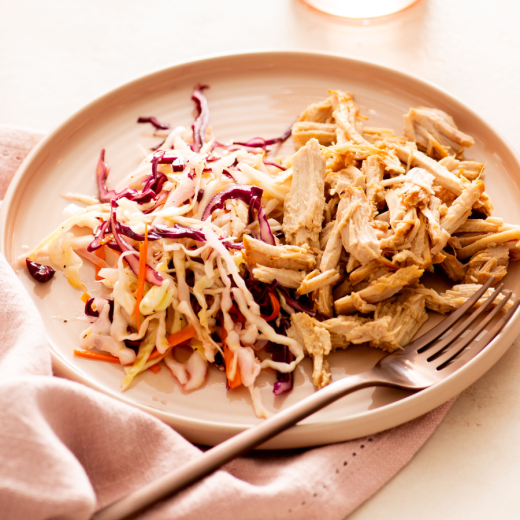 Slow Cooker Sweet and Spicy Pulled Pork with Fresh Slaw
This recipe begins with a simple rub featuring savory garlic, spicy crushed red pepper, zippy lemon pepper and warm ginger. Then, it dresses the melt-in-your-mouth texture of slow-cooked pulled pork with the crisp, creamy snap of fresh slaw.
Directions
To Make the Pork:
In a small bowl, combine brown sugar, garlic powder, crushed red pepper, lemon pepper, ginger, salt and pepper. Stir until well combined.
Place pork in slow cooker, rub spice mixture all over pork, then drizzle vinegar over top.
Cover and cook on low for 8 to 10 hours, until pork shreds easily with a fork.
Serve with slaw and your favorite barbecue sauce, if desired.
To Make the Slaw:
In a large bowl, combine cabbage and carrot. Toss until well mixed.
In a small bowl, combine olive oil, vinegar, sugar, salt and pepper. Whisk vigorously until well blended. Pour over cabbage and carrot, then toss until evenly distributed.
Let sit for 10 minutes before serving.