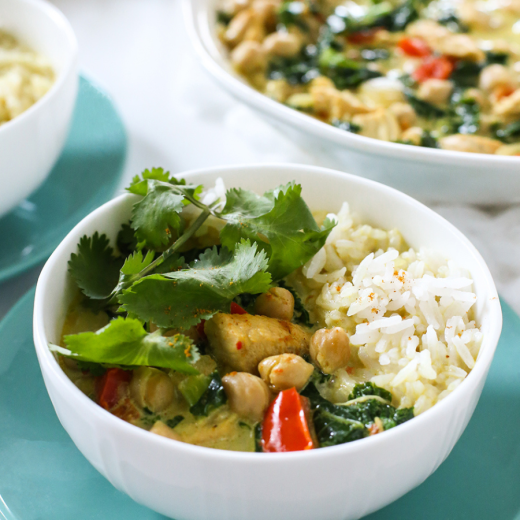 Slow Cooker Coconut Chicken Curry
A big flavor slow cooker chicken curry recipe made with coconut milk, kale and organic spices. Serve over jasmine or basmati rice, garnished with fresh cilantro.
2 tablespoons unsalted butter
1 pound 1 pound chicken breasts, cubed
2 teaspoons sea salt or pink Himalayan salt, plus more to taste
1/4 teaspoon Simply Organic® Black Pepper, plus more to taste
2 red bell peppers, diced
1 large yellow onion, diced
1 white potato, diced
1/8 teaspoon Simply Organic® Cayenne
1/2 teaspoon Simply Organic® Garlic Powder
1 teaspoon Simply Organic® Ginger
2 teaspoons Simply Organic® Curry Powder
2 cups cooked chickpeas, drained and rinsed if canned
4 cups chicken or vegetable broth
1 can (13.5 ounces) full-fat coconut milk
2 packed cups kale, chopped
4 cups cooked jasmine or basmati rice, for serving
Fresh cilantro, for garnish
Directions
In a skillet over medium heat, melt butter. Sprinkle chicken with salt and pepper, to taste. Place chicken in pan and cook for about 5 minutes, just until the outside begins to brown. Add bell pepper and onion. Sauté for 2 more minutes.
Into slow cooker, place chicken and vegetables, followed by potato, salt, pepper, cayenne, garlic powder, ginger, curry powder, chickpeas, broth and coconut milk. Cover and cook on high for about 5 hours, until potatoes and chicken are tender.
Add kale to hot curry, then serve over rice, garnished with fresh cilantro.
Recipe Tips
To make this recipe dairy free, substitute olive oil or ghee for the butter.
For a twist, try spinach or Swiss chard instead of kale.