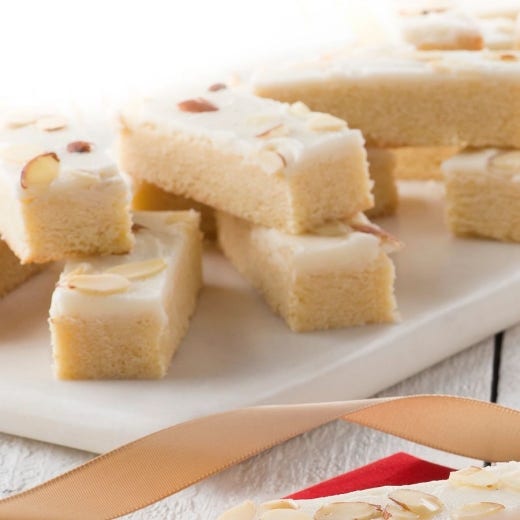 These vanilla-almond sugar cookie bars are perfect for no-fuss holiday entertaining.
Makes 32 bars.
For the Bars:
3 cups all-purpose flour
1/2 teaspoon baking powder
1/4 teaspoon sea or Himalayan pink salt
1 cup unsalted butter, softened
1 1/4 cups granulated sugar
1 egg
1 egg yolk
2 teaspoons Simply Organic® Pure Madagascar Vanilla Extract or Vanilla Bean Paste
For the Frosting:
5 1/2 tablespoons unsalted butter, softened
2 cups confectioner's sugar
2 tablespoons milk or non-dairy alternative
1/2 teaspoon Simply Organic® Almond Extract
Sliced almonds
Directions
To Make the Sugar Cookie Bars:
Lightly grease a 9-x-13-inch baking pan. Line with parchment paper, with paper overhanging edges.
In a large bowl, stir flour with baking powder and salt; set aside.
In a separate bowl, beat butter with sugar until fluffy. Beat in egg, egg yolk and vanilla. Slowly add flour mixture until fully incorporated.
Press mixture into bottom of prepared pan. Chill for 30 minutes and preheat oven to 350 degrees.
Bake for 25 to 30 minutes or until set in the center and edges are lightly golden. Cool completely before frosting.
To Make the Frosting:
Using an electric mixer, whip butter until light and fluffy. Beat in powdered sugar, milk and almond extract on low speed until smooth.
Spread over cooled cookie bars. Sprinkle with almonds. Cut into 32 pieces.
RECIPE TIP
For a nut-free recipe, substitute vanilla extract for the almond extract in the frosting, and omit the sliced almonds.