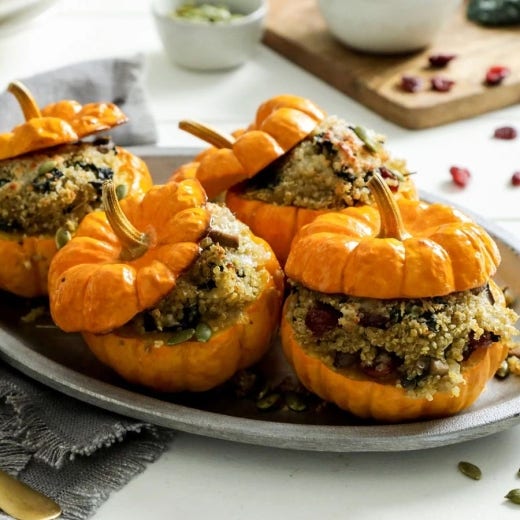 Savory Stuffed Mini Pumpkins
These vegan-friendly mushroom-and-quinoa-stuffed mini pumpkins contain all of the flavors of fall. With savory herbs and a hint of tart-sweetness from dried cranberries, these adorable little stuffed pumpkins will be the hit of your next fall gathering!
8 mini pumpkins (about 10 to 13 ounces)
2-3 tablespoons olive oil, divided
1 teaspoon sea or Himalayan pink salt
Simply Organic® Medium Grind Black Pepper, to taste
1/8 teaspoon Simply Organic® Nutmeg
1 cup quinoa
2 cups water
1 small sweet onion, chopped
2 cloves garlic, minced or finely chopped
8 ounces cremini mushrooms, roughly chopped
2 cups kale leaves, destemmed and roughly chopped
1 teaspoon Simply Organic® Ground Sage
1/2 teaspoon Simply Organic® Rosemary
1/3 cup dried cranberries
1/2 cup apple cider
1/3 cup Simply Organic® Nutritional Yeast (or Parmesan cheese)
Directions
Using a sharp serrated knife, slice tops off mini pumpkins; scoop out seeds and place pumpkins on a baking sheet. Rub inside flesh with 1 to 2 tablespoons of the olive oil, then sprinkle with salt, pepper and a pinch of nutmeg.
Roast for 20 to 30 minutes, or until pumpkins are just tender (will vary based on size of pumpkins).
Meanwhile, in a pot, gently bring quinoa and 2 cups water to a boil. Reduce to a simmer, cover and cook 15 to 20 minutes, until fluffy. Transfer to a large bowl.
In a large skillet over medium heat, add 1 tablespoon olive oil and the onion, and cook until tender. Add garlic and cook for 1 to 2 minutes, until fragrant.
Add mushrooms and kale leaves. Cook, stirring occasionally until tender and caramelized.
Add sage and rosemary and cook an additional 1 to 2 minutes, then add quinoa, cranberries and apple cider, cooking until cider is absorbed.
Arrange pumpkins in a large baking dish and stuff each with quinoa mixture. Sprinkle with nutritional yeast or Parmesan cheese.
Bake for an additional 10 to 20 minutes, until pumpkins are soft and stuffing is heated through. Serve hot.
Preheat oven to 400 degrees.