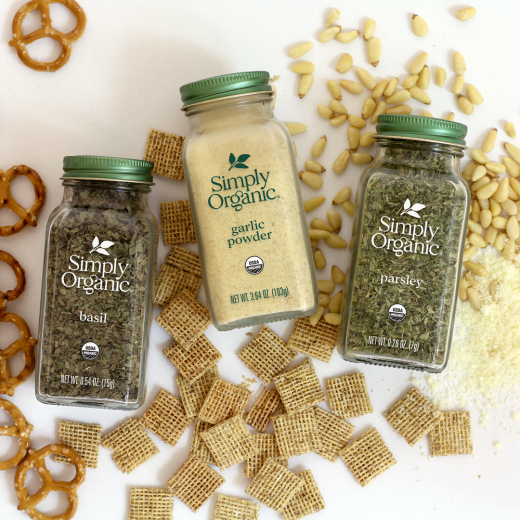 A standard snack mix recipe is the perfect vehicle for the pesto-inspired Italian flavors of olive oil, pine nuts, basil and Parmesan cheese.
Makes 12 cups, 24 half-cup servings.
2 teaspoons Simply Organic® Parsley
1 teaspoon Simply Organic® Basil
1 teaspoon grated Parmesan
1 teaspoon Simply Organic® Garlic Powder
3/4 teaspoon sea salt or pink Himalayan salt
1/4 cup olive oil
2 teaspoons Worcestershire sauce
9 cups mixed organic rice, corn and wheat cereal squares
1 cup pine nuts
1 cup bite-sized pretzels
1 cup bagel chips
Directions
Preheat oven to 250 degrees.
In a small bowl, combine parsley, basil, Parmesan, garlic powder and salt.
In a large, ungreased roasting pan, combine olive oil and Worcestershire sauce. Add cereal squares, pine nuts, pretzels, bagel chips and seasoning mixture. Mix until well combined and evenly coated.
Bake for 1 hour, stirring every 15 minutes.
Spread out in single layer on baking sheets until cooled. Store in an airtight container.