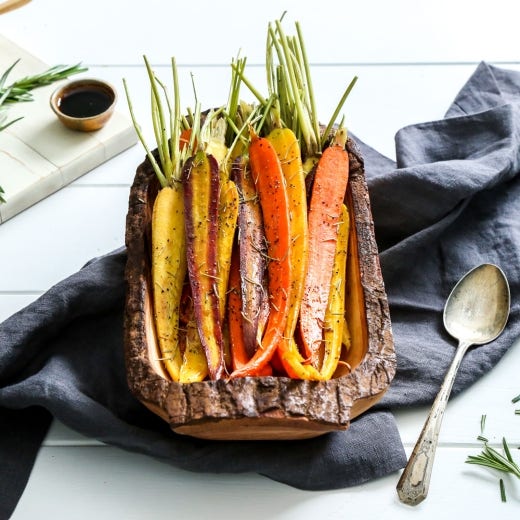 Rosemary Balsamic Roasted Carrots
Roasted carrots brought to life with organic rosemary and a maple balsamic glaze make an exquisite simple side dish.
12 medium-sized rainbow carrots with stems, peeled and halved lengthwise
2 tablespoons extra--virgin olive oil
2 tablespoons pure maple syrup
1 tablespoon Simply Organic® Rosemary
1/2 teaspoon sea or Himalayan pink salt
1/2 teaspoon Simply Organic® Black Pepper
2 tablespoons balsamic vinegar
Directions
Preheat oven to 425 degrees.
On a high-rimmed baking sheet, spread carrots in an even layer. Drizzle olive oil and maple syrup over top, followed by rosemary, salt and pepper. Toss until carrots are well coated.
Cover stems of carrots with a sheet of foil to prevent burning, then roast for 20 minutes. Remove from oven and drizzle with balsamic vinegar. Toss until carrots are well coated, then roast for an additional 5 minutes.
RECIPE TIP
Do your best to ensure the carrots are relatively the same size for even cooking.