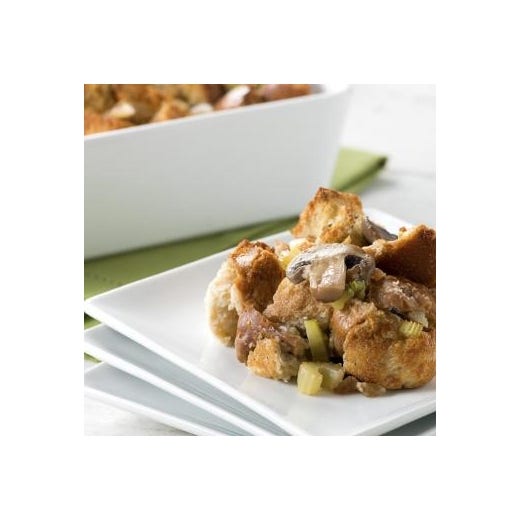 Rosemary and Sage Stuffing
Warm, earthy sage and aromatic rosemary bring out extra flavor in this traditional sage stuffing recipe.
1 loaf Italian bread, cut into 1-inch pieces (approximately 14 cups)
6 teaspoons unsalted butter, plus more to coat baking dish
1 white onion, diced
1 teaspoon sea salt
1 teaspoon Simply Organic® Black Pepper
2 cups button mushrooms, thinly sliced
6 stalks celery, thinly sliced
3 cups chicken broth
2 large eggs, beaten
1/4 teaspoon Simply Organic® Sage, or more to taste
1/2 teaspoon Simply Organic® Rosemary
1 cup golden raisins (optional)**
** If using the raisins, stew them ahead of time in the chicken stock to make them plump and tender.
Directions
Heat oven to 375 degrees. Butter a 9x13-inch baking dish.
Place bread on a baking sheet. Bake for 10 minutes.
Meanwhile, melt butter in a large pot over medium heat. Add onions, salt and pepper. Cook for 10 minutes or until onions are translucent.
Add remaining ingredients to the pan and toss to combine. Transfer mixture to the prepared baking dish. Cover and bake for 15 minutes, then uncover and bake for another 35 minutes.
Remove from oven. Serve warm.