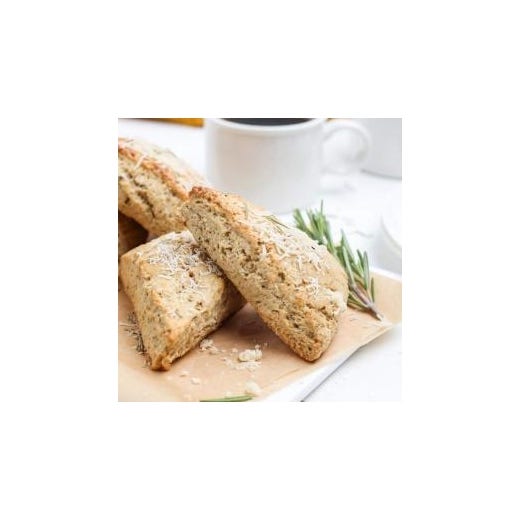 Rosemary and Parmesan Cheese Scones
Rosemary adds an herby goodness to this savory Parmesan cheese scones recipe.
2 1/2 cups whole wheat pastry flour
1 cup Parmesan cheese, freshly grated, plus more for garnish
3 tablespoons sugar
2 tablespoons Simply Organic® Rosemary, plus more for garnish
1 tablespoon baking powder
6 tablespoons cold butter, cubed
1 egg
1/2 cup + 1 tablespoon whole milk
Directions
Preheat oven to 400 degrees.
In a large bowl, combine flour, Parmesan cheese, sugar, rosemary and baking powder. Whisk until well combined.
Use a pastry cutter or clean hands to cut butter into the dry ingredients until coarse crumbs form.
In a small bowl, combine egg and 1/2 cup milk. Beat until well blended, then pour into the dry ingredients. Stir until just combined.
Use clean hands to form a ball out of the dough. On a piece of wax parchment paper, place dough and use your fingertips to push the dough outward into a circle until an inch-high patty forms.
Use a knife or pizza cutter to cut the dough into 8 slices as though cutting a pizza or pie.
Use a pastry brush to brush remaining 1 tablespoon milk over the scones. Separate the scones on the parchment paper.
On a baking stone or baking sheet, place parchment paper and scones.
Bake for 11 minutes, garnish scones with a few sprinkles of rosemary and Parmesan cheese, then bake for 5 to 7 more minutes.
Recipe Tip:
If desired, substitute freshly grated Asiago cheese for the Parmesan.