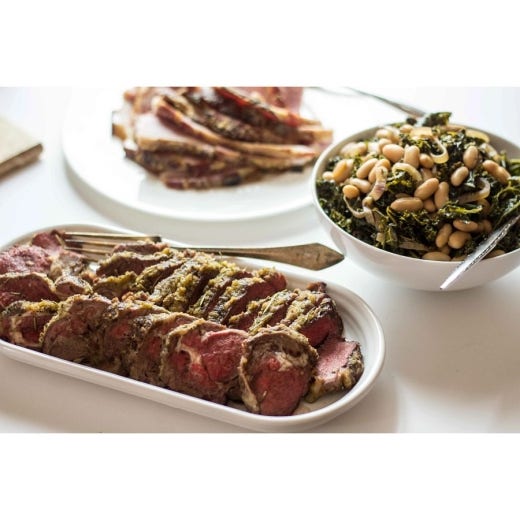 Rosemary and Garlic Roast Lamb
A fragrant mixture of rosemary and garlic complements the earthy richness of lamb in this elegant yet simple roast lamb recipe.
Directions
Preheat oven to 375 degrees.
Pat lamb dry and season liberally with salt and pepper.
In a skillet over medium-high heat, heat 1 tablespoon olive oil until simmering. Add lamb and sear each side for 45 to 60 seconds each. Transfer to a roasting pan and let cool for 5 to 10 minutes.
Meanwhile, in a small bowl, combine the remaining 2 tablespoons olive oil, bread crumbs, rosemary and garlic powder. Stir until well mixed, then use to rub the lamb generously.
Roast lamb in oven for 20 to 25 minutes, until lamb reaches desired temperature (145 degrees for medium rare, 160 degrees for medium).
Transfer lamb to a cutting board and tent loosely with foil. Let rest 10 to 15 minutes before carving into 1/2-inch-thick slices.